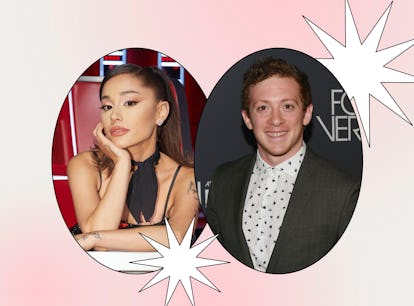 The Ariana Grande & Ethan Slater Dating Rumor Has The Internet Shook
The showmance no one expected.
NBC/NBCUniversal/Getty Images/Nicholas Hunt/WireImage/Getty Images
Well, this is one wicked rumored romance. Just days after Ariana Grande reportedly split from her husband of two years, Dalton Gomez, there's a new update on her love life. On July 20, TMZ reported the singer is now dating her Wicked co-star — and Broadway's own Spongebob — Ethan Slater. This news moved like chaotic wildfire on Twitter, with many scratching their heads at how this rumored relationship came about. And from the looks of it, fans might have to thank *checks notes* musical theater culture.
TMZ first reported the new couple began dating "several months ago" during the production of Wicked. The film (which stars Grande as the blonde-haired Glinda and Slater as Munchkin Boq) began filming in London in December 2022, but has now shut down due to the ongoing writers strike. According to an Entertainment Tonight source, Grande and Slater's romance began after they "broke up with their significant others." The source continued, saying, "They have a lot in common and have a lot of fun."
This news follows Grande's public separation from Gomez. On July 16, one day before the confirmed split, Grande attended a Wimbledon match alongside Bridgerton's Johnathan Bailey. Many fans noticed the singer wasn't wearing her wedding ring, and speculations arose the couple, who married in May 2021, might've separated. TMZ then confirmed the news the following day.
A source told Us Weekly Grande and Gomez had been "having issues" for months, and they were working on their "rough patch" while doing long distance. However, the distance seemed to complicate things, and they reportedly stopped speaking earlier this year. Meanwhile, Slater's relationship timeline has a similar flow. In TMZ's first report, the outlet noted that Slater was married to singer (and high school sweetheart) Lilly Jay since 2018. They originally began dating in 2012, and four years after their marriage, the duo welcomed a son together in 2022.
It's not exactly clear when Slater and Jay separated; however, Cosmopolitan reported the actor dedicated several Instagram posts to Jay between November 2022 and May of this year. Shortly after the news of Slater's new coupling with Grande hit social media, he reportedly made his Instagram private.
Besides limiting access to his page, neither Slater nor Grande has addressed the dating rumors. However, that hasn't stopped Twitter users from voicing their thoughts about their reported relationship. Many fans wondered whether TMZ's report was accurate, because the idea of Grande dating her co-star seemed so random. Meanwhile, the potential romance made sense to other fans, as the duo have one similarity: They're both actors who briefly spent time on Broadway.
Slater's known for starring in 2019's The SpongeBob Musical on Broadway, which scored him a Tony nomination. Meanwhile, Grande was (and still, considering her role in Wicked) a notable theater kid who appeared in Broadway's 2008 version of 13: The Musical at 15 years old. Clearly, there's some allure in the world of musical theater.
Check out the reactions to Grande and Slater's dating rumors, below.
Some fans are still shocked about Grande and Slater's rumored romance.
Since the news of their relationship broke, not all the chatter around Slater has been positive. However, there's a core fanbase that's rooting for him.
While some users can't see Grande's vision, others certainly can.