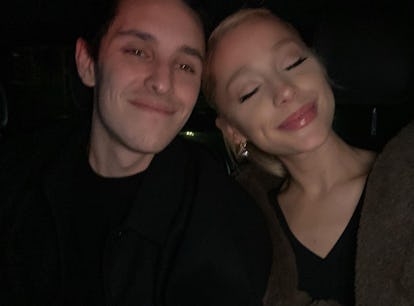 The Timeline Of Ariana's Divorce Is Even Messier Than You Thought
Let's break down exactly when everything happened.
When the first reports of Ariana Grande and Dalton Gomez's divorce sprung up over the summer, fans of the couple were shook. The sudden split seemed to come out of nowhere... until more information about the separation came to light. Turns out, their breakup wasn't exactly as sudden as fans originally thought — and Grande and Gomez's divorce timeline is pretty convoluted, especially considering her rumored relationship with Wicked co-star Ethan Slater.
Before jumping into where things went wrong, let's look back at how Grande and Gomez's romance began. They were first linked at the beginning of 2020, when they were spotted making out at a bar. A few months later, they made things Instagram official, and before the year came to an end, they got engaged. They got married in the summer of 2021, but things started to look bleak for the newlyweds in 2023.
In July, reports surfaced that the couple was heading for divorce. And when that divorce finally happened in September 2023, the papers revealed Grande and Gomez had separated much earlier than anyone knew. Here's the full timeline of their breakup, from Grande's casting in the Wicked movie all the way to their October divorce settlement.
November 2021: Ariana Was Cast In Wicked
About six months after marrying Gomez, Grande was cast as Glinda in Jon M. Chu's film adaptation of the musical Wicked. Filming for the movie would take place in London in 2022, meaning Grande would have to be apart from her new husband, whom she was living with in Los Angeles.
November 2022: Ariana Posted Her Final Photo Of Dalton
The last pic Grande shared of Gomez to her Instagram feed was a smiley couples selfie, which she posted on Nov. 29, 2022.
December 2022: Filming Began For Wicked
On Dec. 9, Chu confirmed that production had begun for the Wicked movies, which would be released in two parts, with the first scheduled to hit theaters on Nov. 27, 2024. The lengthy filming process meant Grande had to relocate to London.
December 2022: Ethan Was Cast In Wicked
Enter the third important character in this timeline. A few days after filming had begun, Broadway star Ethan Slater was announced to be playing Boq in the movies.
January 2023: Dalton Visited Ariana In London
At the end of January, paparazzi snapped photos of Gomez visiting his wife in London, walking arm-in-arm as they stopped by a crepe stand. Page Six later reported this was a "last-ditch effort" to save the marriage, which had already been having problems.
February 2023: Ariana & Dalton Privately Separated
According to their divorce files, Grande and Gomez officially called it quits on Feb. 20, about two and a half months into their shift to long-distance.
May 2023: Ariana Posted For Her & Dalton's Anniversary
While their divorce papers said they had split three months before their second anniversary, Grande still professed her love for her allegedly estranged husband by posting a romantic pic and writing, "i love him so."
May 2023: Ethan Dedicated A Mother's Day Post To His Wife
Around that same time, Slater was also publicly praising his spouse, Lilly Jay. In May, he shared some snaps of his 8-month-old son, wishing a happy Mother's Day to "the most loving caring and wonderful mom/person in the world."
June 2023: Ariana Was Photographed Embracing Ethan
A day after Grande's birthday at the end of June, the paparazzi caught her and Slater with their arms around one another as they took a stroll through SoHo Farmhouse in the English countryside.
July 16, 2023: Breakup Rumors About Ariana & Dalton Started
After Grande was spotted in the crowd at Wimbledon without her wedding ring, reports began to come out that she and Gomez had split and were preparing to file for divorce. Long distance was cited as their main issue.
July 20, 2023: Dating Rumors About Ariana & Ethan Surfaced
Just a couple days later, TMZ reported that Grande was dating her Wicked co-star Slater. The source claimed that the pair had been seeing each other for "several months" at that point (hence those photos taken a few weeks prior).
July 26, 2023: Ethan Filed For Divorce
Less than one week later, Slater seemingly confirmed the gossip by filing for divorce for his wife of five years. Jay made her feelings known by calling out Grande in a statement to Page Six: "Not a girl's girl... My family is just collateral damage."
September 2023: Ariana & Dalton Jointly Filed For Divorce
On Sept. 18, Grande and Gomez's breakup was made official when the ex-spouses filed for divorce at the same time.
October 6, 2023: Ariana & Dalton Settled Their Divorce
On Oct. 6, only a few weeks after filing, TMZ reported that Grande and Gomez's divorce was settled. "There is still a strong mutual love and respect between Ariana and Dalton and they wanted to make sure everything was done right in lockstep with one another," a source told TMZ.
Per the settlement paperwork, Grande wrote Gomez a check for $1,250,000, which he will receive tax-free. There will be no further spousal support. The settlement ironed out a few more financial details: When they sell their Los Angeles home, Gomez will get half of the profit from sale. Grande will also pay up to $25,000 of Gomez's legal fees for the divorce.
But that's not the juiciest tidbit. Per the court docs, obtained by The Blast on Oct. 9, the divorce settlement stipulated some specific rules for Gomez. As part of their divorce, he apparently agreed to no "release, disclosure or publication of any photograph (and related negatives), tape, film or like embodiments in all forms whether now or hereafter created or other record or recording of any aspect of any activity in or about any home, office or other property owned."
TL;DR: There won't be any tell-all interviews or documentaries in Gomez's future.
October 8, 2023: Dalton Was Spotted Kissing Someone New
Two days after finalizing his divorce, Gomez debuted a new love interest: Maika Monroe. On Oct. 8, DeuxMoi shared a photo of Gomez and Monroe kissing at a bar in Hollywood. According to an anonymous tip, the duo would "look around to see if anyone" was watching before kissing in public.
This isn't the first time sources have spilled details on Gomez's love life post-breakup. "He is dating a little bit and a lot of girls are giving Dalton attention," a source told Entertainment Tonight on Sept. 13. "He is not completely over his relationship with Ariana, but he is doing his best to move forward."
This article was originally published on