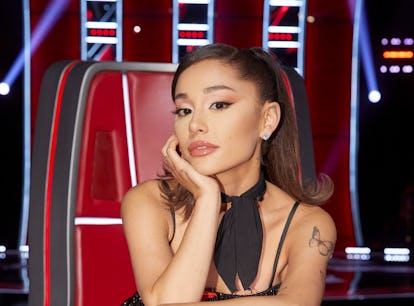 Ariana's Ex-Husband Was Spotted Kissing This Actor After Their Breakup
Hint: She's an indie scream queen.
The chapter has officially closed in Ariana Grande and Dalton Gomez's marriage. It's a rather dramatic end, as their split became a real-life "thank u, next" verse over the summer. Shortly after the announcement of their separation in June, Grande moved on to a new romance with her Wicked co-star, Ethan Slater. And now, Gomez is revving up the engine in his own love life. Recently, he was seen engaging in some PDA with actor Maika Monroe.
On Oct. 8, DeuxMoi — the Instagram account known for anonymous celebrity gossip — posted a photo of Gomez and Monroe kissing in their Stories. According to an anonymous source, the duo were reportedly on a date at Jumbo's in Hollywood. "They were very friendly and both introduced themselves," the source said, adding the duo would "look around to see if anyone" spotted them before continuing their make-out sessions.
This sighting comes three days after Gomez and Grande finalized their divorce. TMZ, who first reported the news, stated the Positions singer paid her ex-husband $1,250,000 and is set to pay $25,000 of his attorney fees. Gomez will not receive spousal support from Grande, as the payment will be made upfront rather than over a certain period of time. The outlet also reported the former couple, who were married for two years, will split the profits of their shared Los Angeles home once it sells.
As for Gomez and Grande's communication, a source said the two are still on good terms. "There is still a strong mutual love and respect between [them] and they wanted to make sure everything was done right in lockstep with one another," they told TMZ. This seems to align for most of their separation, as they amicably filed for divorce in September.
While Gomez's intimate sighting with Monroe is sudden, it's not too surprising. Shortly before the joint divorce filing, Gomez reportedly began dating again. On Sept. 13, an ET source said that "a lot of girls are giving him attention" and that he's mourning the end of his marriage by "keeping himself busy in positive ways."
So, who is Maika Monroe? For indie horror fans, her name might sound familiar. Monroe is a 30-year-old actor who's been polishing her "indie scream queen" crown since 2014. The Santa Barbara-native has quite an impressive, off-kilter horror catalogue under her belt: She appeared in 2014's It Follows, solidified her role as a final girl in 2019's Greta, and recently starred as a hostage victim in the Dan Berk-directed Villains.
Before her stint in thrillers, she first debuted in the 2012 drama film, At Any Price. She was rumored to have dated Zac Efron, who also starred in the family-centered movie, a year after its release. However, neither actor confirmed the romance speculations. Her most public relationship came in 2017, when she dated Stranger Things heartthrob Joe Keery.
The former couple reportedly met at a party in Los Angeles that year, according to a 2021 GQ profile on the singer-actor. Although Keery and Monroe's relationship was relatively private, that didn't stop them from expressing their love on the red carpet. In October 2017, the duo made their red carpet debut at the Stranger Things Season 2 premiere. Nearly a year into their relationship, the two flexed their acting prowess together in the 2018 film, After Everything.
While things seemed to be blissful, it took a turn in November 2022. That month, Deuxmoi reportedly claimed the two had parted ways on their Stories, per J-14. A source allegedly told the Instagram outlet they saw Monroe kissing her Watcher co-star and Zoë Kravitz's ex-husband, Karl Glusman, "a couple weeks" before their breakup. However, it seems Monroe never confirmed the alleged brief fling.
Considering Monroe and Gomez were in pretty private relationships, it'll be interesting to see where this new romance will go next.