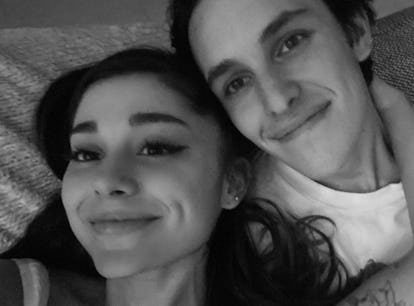 Dalton Is "Not Completely Over" Ariana, 2 Months Post-Breakup
But he's "dating a little bit," per reports.
Ariana Grande and Dalton Gomez's rumored breakup might not be so mutual, after all. On July 17, a source told Page Six that Grande and Gomez were splitting up after two years of marriage, explaining that "they came to the decision together." However, on July 24, a source told Entertainment Tonight that the couple's separation was a bit more one-sided than initial reports — and apparently, Gomez "still considers her his partner." Months later, it sounds like that's still the case. Per ET, Gomez is still harboring some feelings for his ex, despite reports that she's happy with her Wicked co-star Ethan Slater.
"He is dating a little bit and a lot of girls are giving Dalton attention," a source told ET on Sept. 13. "He is not completely over his relationship with Ariana, but he is doing his best to move forward." Apparently, that involves "throwing himself into work and working harder than ever." The insider added, "He is trying to stay distracted and keep himself busy in positive ways."
Grande reportedly started dating Slater this summer after she and Gomez called it quits. "[Gomez and Slater] have a lot in common and have a lot of fun," an insider told ET on July 20. According to Daily Mail, Grande and Slater's romance is moving steadily along, and the pair are reportedly living together in New York City. "Ariana is living with a married man right now while she is still married," a source claimed in September. "It seems as if Ariana is holding onto Dalton in case things with Ethan don't work. It is just so strange that she is living with Ethan and has not filed documents to end it with Dalton."
Sources have discussed Gomez's post-breakup blues before. "Dalton is having a hard time after his breakup with Ariana. It has been a difficult time for him because he wanted to make things work," the insider claimed to ET in July. "He still has a lot of love for her and still considers her his partner, but she has moved on. Dalton's friends are encouraging him to do the same." Per People, Grande and Gomez had been having "issues for months" before separating — most of them caused by long distance. (Grande needed to be in the U.K. to shoot Wicked, while Gomez's real estate business is based in Los Angeles.)
Gomez apparently isn't the only ex struggling with Grande and Slater's rumored romance. Slater's wife Lilly Jay also has *thoughts* on the new couple, per an ET source. As Slater's high school sweetheart, Jay was reportedly "devastated" by the split. "This is not the future she had in mind," the insider claimed on July 22. "She's doing her best to get back on her feet. She's incredibly smart and driven" and "she is truly the best mother." (Slater and Jay welcomed their first child in 2022.)
At the time of publication, neither Grande nor Slater has spoken out about their rumored relationship — either to confirm or deny it — but Slater briefly put his Instagram on private following the reports.
This article was originally published on