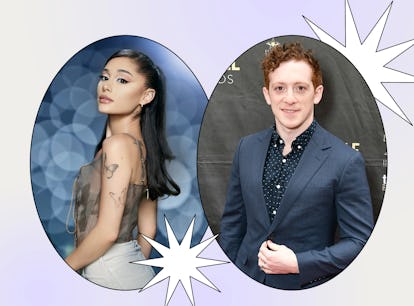 Ethan Slater's Wife Called Ariana Out For Not Being A "Girl's Girl"
NBC/NBCUniversal/Getty Images; Eugene Gologursky/Getty Images Entertainment/Getty Images
Sorry to the skeptics, but it looks like Ariana Grande and Ethan Slater's reported relationship is moving steadily along. The rumors about the duo have been heating up, with a source telling Us Weekly that they are "very much in love" only 10 days after reports of Grande and her husband Dalton Gomez's separation first circulated. Unfortunately, this love story leaves some people behind — namely, Slater's wife, Lilly Jay, who spoke out about the couple on July 27.
According to Us Weekly, Slater told his wife about his and Grande's romance only "days before the news broke." In response, Jay spoke directly to Page Six, saying, "[Ariana's] the story really. Not a girl's girl... My family is just collateral damage." She added that she'd be keeping her focus on raising her and Slater's child, who was born in 2022.
ICYMI, despite their respective marriages, Grande and Slater reportedly haven't been hiding their affection on the Wicked set, where they've been working together. A source told Entertainment Tonight, "Ariana and Ethan recently started dating... They have a lot in common and have a lot of fun." Still, according to an Us source, they were "sloppy" about keeping things under wraps. "They'd hold hands on set in between takes," and "[they] weren't careful," an insider claimed on July 26.
Jay isn't the only one "devastated" by this brewing romance. "Dalton is having a hard time after his breakup with Ariana. It has been a difficult time for him because he wanted to make things work," a source told ET. Grande and Gomez had reportedly been having "issues for months" before ending things, largely surrounding their long-distance relationship. (Grande is filming Wicked in the U.K., and Gomez's job is based in Los Angeles.) "He is super focused on his career and needs to live in Los Angeles," a source told People. "It's definitely been an issue for them. Dalton's career is demanding and he can't leave Los Angeles often. So when [Grande] started filming Wicked in England, they were in for a long-distance marriage."
According to other sources, the timeline isn't as messy as it seems. An insider told Entertainment Tonight, "They didn't start dating until both were broken up with their significant others." Another source told Page Six, "[Jay's] rightfully upset because her marriage fell apart, but Ariana and Ethan didn't do anything wrong," adding that Slater and his wife were on the outs for two months before Grande and him started seeing each other.
Amid all this drama, Slater's friends are reportedly worried that this whirlwind relationship with Grande will "break his heart."