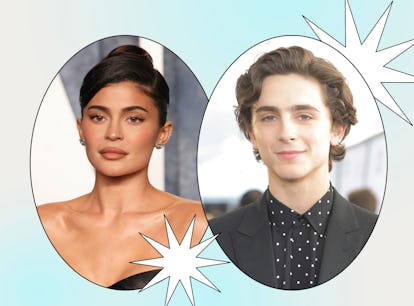 Sooo, There's More Proof Kylie & Timothée Might Actually Be A Thing
And the internet's not OK.
Variety/Penske Media/Getty Images; John Shearer/WireImage/Getty Images
Something must be in the air, because a lot of bizarre celebrity dating rumors have been popping up recently. From Harry Styles and Emily Ratajkowski's kiss to the gossip about Kendall Jenner and Bad Bunny, it seems like every day has brought a surprising new maybe-couple, but the latest is definitely the strangest. A totally unexpected rumor about Timothée Chalamet and Kylie Jenner broke the internet, and these memes and jokes about the wild dating rumor are too much.
The story nobody saw coming arrived on April 6 on the gossip site DeuxMoi, which reported that unidentified sources had confirmed Chalamet and Jenner were dating. Of course, DeuxMoi is infamously unreliable, but on April 13, TMZ reported that Jenner's car was spotted outside Chalamet's house.
Then, on April 17, Entertainment Tonight gave more substance to the speculation. "They are keeping things casual at this point. It's not serious, but Kylie is enjoying hanging out with Timothée and seeing where it goes," a source told the outlet. "It's been really fun for her because it feels a lot different than her past relationships. It's new and exciting for Kylie and she's having a lot of fun."
But apparently, she wanted to keep that fun away from festival grounds (unlike Camila Cabello and Shawn Mendes). "Kylie decided she didn't want to make things public with Timothée this past weekend at Coachella, and really just wanted to chill and have fun with her friend," the insider added.
Apparently, Chalamet's friendship with Jenner's family — specifically her sister Kendall — has made it "easy for Kylie to integrate him into her life." Sounds kinda perfect for a casual fling, no? Though nothing has been confirmed yet, these dating rumors still provided a ton of meme material for everyone on social media. Here are some of the best reactions.
Unfortunately, it may be a while before fans learn what is really going on between Chalamet and Jenner, if anything at all. Chalamet tends to keep quiet about his personal life, and hasn't really been public about his love life since he broke up with his ex-girlfriend Lily-Rose Depp in 2020. And although Jenner is used to being in the public eye, she also has a knack for keeping big secrets. She also hasn't really been single for years, since she's been with Scott since 2017, so this could be her way of getting back into the dating game.
Whether the rumors are true or not, at least they inspired some great jokes.