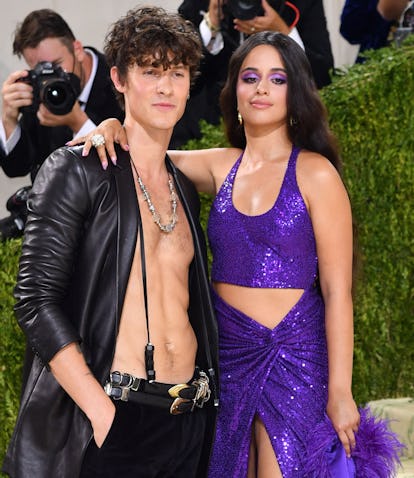 This Video Of Shawn & Camila At Coachella Has Fans Convinced They're Back Together
They sure don't look broken up!
ANGELA WEISS/AFP/Getty Images
It looks like Shawmila is back, baby. Nearly a year-and-a-half after Shawn Mendes and Camila Cabello broke up, they were spotted looking awfully cozy with one another in the crowds at Coachella. Here's why this Coachella video has everyone convinced Mendes and Cabello are back together.
On the surface, it's not all too surprising to hear that Mendes and Cabello were friendly with one another while both attending Coachella on Friday, April 14. After all, they were close friends for five years before they started dating in 2019, and their breakup in 2021 was super amicable. Naturally, they'd still be civil if they ran into each other at a concert, right? But the shots taken of Mendes and Cabello were more than merely civil. Festivalgoers captured the two exes embracing one another, dancing together, and even seemingly sharing a kiss on Friday night. It's the same sensual body language that the two singers had been known for back when they first started dating and released their steamy duet "Señorita."
Although neither Mendes nor Cabello has spoken about the encounter, the video clips are more than enough for diehard fans of the couple to speculate that they are giving their love another chance.
The rumored rekindling comes nearly a year-and-a-half after the couple announced their breakup on Nov. 17, 2021. The had ended their two-year relationship by posting a joint statement to Instagram, in which they affirmed they would remain friends despite the breakup. "Hey guys, we've decided to end our romantic relationship but our love for another as humans is stronger than ever," the note read. "We started our relationship as best friends and will continue to be best friends. We so appreciate your support from the beginning and moving forward."
The two had been friends long before they started dating. They first met back in 2014 when they both opened for Austin Mahone's tour. They remained close for five years, and then finally decided to test out the romantic waters in 2019, when they officially became a couple. Although their first go at love didn't work out, it sure looks like they're ready to give their relationship another chance.