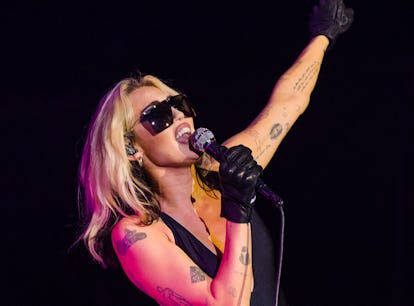 How Miley Cyrus' Endless Summer Vacation Album Relates To Astrology
ESV is to Miley what 30 is to Adele.
Mauricio Santana/Getty Images Entertainment/Getty Images
Miley Cyrus has always been *that* girl. Ever since her Disney days, she's found ways to shock fans and casual viewers time and time again. Between twerking on stage with backup dancers dressed as teddy bears and engaging in high-profile relationships, she's more than proven that she can't be tamed, even 13 years after the release of the album of that very name. The premiere of her eighth studio album, Endless Summer Vacation, is further proof that she can't stop. (OK, no more puns.) Despite Cyrus never fully disappearing from the spotlight, 2023 was always meant to be her comeback year — at least according to astrology. And her natal chart holds a major key as to why.
There have been so many different versions of the Hannah Montana alum over the years. Her "We Can't Stop" phase was a declaration of freedom and rebellion; the Plastic Hearts era of 2020 was a post-divorce record with country-style vocals woven throughout. Since Cyrus is a Sagittarius, she tends to have a way of leaving listeners feeling inspired and liberated. Considering the "Flowers" singer just wrapped up her Saturn return, she's probably feeling more emancipated than ever. The release of Endless Summer Vacation marks the end of a a pivotal astrological event that only takes place roughly once every 30 years, so this era just hits different.
Why Miley Cyrus Releasing New Music In 2023 Makes Sense In Astrology
Saturn returns are considered to be an obligatory rite of passage into the third decade of your life, typically coinciding with a slew of life-changing events. Cyrus' Saturn return started back in 2019, which means she finalized her divorce from Liam Hemsworth shortly after it began. (Eerily similar to Adele parting ways from her husband during her Saturn return, no?) While Saturn's return to the sign it was in during your birth isn't all doom and gloom, it typically serves as a major reality check, particularly in the house in your birth chart where Saturn resides.
In the Last Song star's birth chart, she has Saturn in Aquarius sitting in her 10th house of career and public image, bringing an increased amount of responsibility, duty, and rules to that area of her life. Saturn returns in this area of your birth chart typically coincide with a professional rebrand, which is spot-on, considering the singer recently signed with a new record label. Now that her Saturn return has come to a close, however, she has new structures and boundaries in place in her professional life, just in time for the biggest album release of her career. Because of this, Endless Summer Vacation — an album Miley considers to be "a love letter to Los Angeles" — is not only going to be a triumphant release for the singer, but she'll be putting some of the important lessons she learned from her Saturn return to good use.