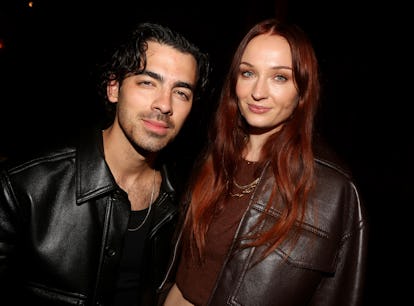 Here's Why Joe Jonas & Sophie Turner Are Divorcing
A source revealed what was on *that* ring camera footage.
Bruce Glikas/WireImage/Getty Images
After four years of marriage, Joe Jonas and Sophie Turner are going their separate ways. On Sept. 6, they confirmed their split on Instagram with a joint statement: "After four wonderful years of marriage we have mutually decided to amicably end our marriage. There are many speculative narratives as to why but, truly this is a united decision and we sincerely hope that everyone can respect our wishes for privacy for us and our children."
The divorce announcement came as a shock to fans, especially since Turner was spotted supporting Jonas on tour only one month prior. So, why the seemingly sudden breakup? While Jonas and Turner haven't directly shared any details with the public (besides legal filings... more on that later), that hasn't stopped sources from weighing in.
On Sept. 6, TMZ reported that "multiple sources who have direct contact with Joe" said that Jonas saw something on a ring camera that made him realize the marriage was over. According to them, Turner was caught doing or saying something that made divorce inevitable, at least in Jonas' mind.
On Sept. 27, a source told Us Weekly spilled a few more details. Apparently, Turner said something "not-so-nice" to a friend about Jonas. "It wasn't anything more than that, but that was the final straw," the insider said.
Per TMZ, who originally reported the divorce on Sept. 9, lifestyle differences have taken a toll on the pair. "She likes to party, he likes to stay at home. They have very different lifestyles," a source claimed. But, as fans have pointed out, the couple said the opposite about each other in a TikTok challenge in 2020; both agreed Turner was the "homebody."
According to a People insider on Sept. 5, the divorce was a long time coming and was not a "surprise" to those close to the couple — despite the rumored ring camera dispute. Apparently, Jonas and Turner spent "the whole summer apart." This outlet's source added, "They were not separated but they've been living separate lives for months." (It's worth noting that Turner was at Jonas' concert at Yankees stadium in August — she even posted a photo of her kissing her husband's hand backstage on Aug. 14.)
Another source reiterated the slow-burn breakup to Page Six. "It just kept building, and Joe finally reached a point where he felt that he had exhausted all options to salvage the marriage," the insider said on Sept. 5. "Divorce was a last resort for Joe. He never wanted to break up his family, but he had to take what he felt was the best course of action for his girls."
The Page Six insider added, "An unhappy home isn't a home, and the truth is that he and Sophie were going through it this year. There's a lot of noise out there, but it wasn't a straw-that-broke-the-camel's-back situation like it's being reported."
Despite claims that the breakup was months in the making, when Turner filed a suit against Jonas on Sept. 21 for refusing to allow their children to travel to the U.K., the paperwork pointed to one bombshell argument as the reason behind their split. Potentially a ring camera-related disagreement?
Per the filing, Jonas and Turner had an argument on Aug. 15 that "very suddenly" caused their breakup. By Sept. 1, Jonas had filed for divorce —something that Turner allegedly found out about four days later "from the media." (According to Jonas' rep, "multiple conversations" between Turner and Jonas meant that she was "aware" of the divorce ahead of time.)
This article was originally published on