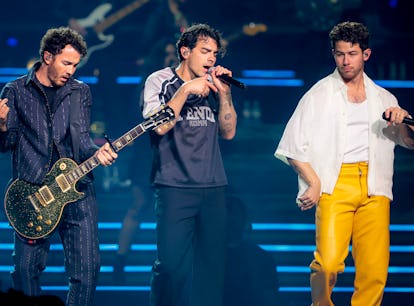 I Went To The Jonas Brothers' The Tour & Here's What To Know
You're gonna wanna remember this.
Boston Globe/Boston Globe/Getty Images
We may receive a portion of sales if you purchase a product through a link in this article.
It's not just the weather outside — things are burnin' up this summer, thanks to the Jonas Brothers. Nick, Joe, and Kevin Jonas are revisiting five of their six studio albums on their own version of an eras tour, which is simply titled The Tour. The band of brothers kicked off The Tour in NYC with two sold-out shows at Yankee Stadium, which included some surprise guests, light-up wristbands, and a career-spanning set list. As they've moved on to the next shows on the schedule, some things have changed along the way. To better prepare you for your night with the JoBros, here's everything you need to know about The Tour.
I actually attended both nights of the Jonas Brothers' The Tour at Yankee Stadium, so I went into my concert experience totally blind. This meant I ended up stuck in the rain night one, because I totally forgot that an outside concert is susceptible to the changing weather. I also wasn't aware at the time that it's such a long show — they really aren't lying when they say it's five albums in one night. Tracking how the tour has been going since my shows on TikTok, I can confidently say I've put together a Jonas Brothers' The Tour survival guide for other fans to follow. From everything like things to bring in your bag to the best Jonas Brothers' Tour outfits, here's what to know so you aren't a sucker for Nick, Joe, and Kevin.