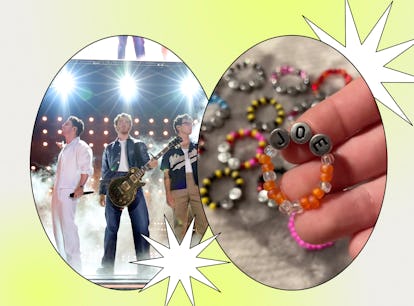 Jonas Brothers Fans Are Making Friendship Purity Rings For The Tour
I'll trade you for a Joe ring.
Kevin Mazur/Getty Images Entertainment/Getty Images/TikTok/Elite Daily
We may receive a portion of sales if you purchase a product through a link in this article.
Taylor Swift said to "make the friendship bracelets" in her song "You're on Your Own, Kid," and ever since, fans have been making beaded jewelry for the Eras Tour. However, it's not just Swifties — the friendship bracelet trend has carried over to other events, like the Jonas Brothers' world tour. Fans of the JoBros started posting about making friendship bracelets for The Tour in early August, before the U.S. leg officially kicked off at Yankee Stadium. Bracelets aren't the only things that fans have been making, however. Some Jonas Brothers fans have been making friendship purity rings, and it's a hilarious nod to the boy band's early Disney Channel days.
The friendship bracelet trend has the JoBros' seal of approval after Kevin Jonas shared an adorable TikTok of his daughter Alena showing off the jewelry she had already made. Even Sophie Turner (aka Mrs. Joe Jonas) shared a pic of all the friendship bracelets she collected at the Yankee Stadium shows, which included a nod to Swift's "Mr. Perfectly Fine" — a song rumored to be about Joe. So, it seems the Y2K trend of exchanging friendship bracelets with fellow fans is a go for the Jonas Brothers' Tour, but what about the friendship purity rings? Well, some fans have taken the trend to the next level by making jewelry in honor of the purity rings the JoBros used to wear.
The Jonas Brothers Friendship Purity Rings, Explained
Anyone who is new to the Jonas Brothers might not know that back in the day, the band of brothers were known for their clean Disney image. That included sporting purity rings, which the three were often ridiculed for. In their 2019 documentary Chasing Happiness, Nick even said, "It was embarrassing to be aware of this joke in real life with people." While the rings may have been a sore subject at the time, fans are paying homage with their own friendship rings.
Friendship purity rings are basically the friendship bracelets that fans have been making, but smaller so they can be worn on your finger instead. Since you're dealing with less space, you kind of have to get creative with what you put on each ring as well. While lyrics and long song titles can fit onto bracelets, simple names like Nick, Joe, and Kevin are all that can fit onto a ring. You can always turn to TikTok for some inspiration on what to put on your Jonas Brothers friendship ring, like lyrics to "Burnin' Up", a "JB" for the band, or short song titles like "S.O.S." and "Cool."
To make them, all you need to do is string beads onto stretch cord. Once it's the perfect size, tie a knot at the end and you're good to go. There are plenty of kits on Amazon that have all the tools you need, so go ahead and plan a friendship ring night with your besties. Mix up some Jonas-themed cocktails, listen to their new album, and make your rings together for the show. A night in with your JoBro friends is truly where "happiness begins."