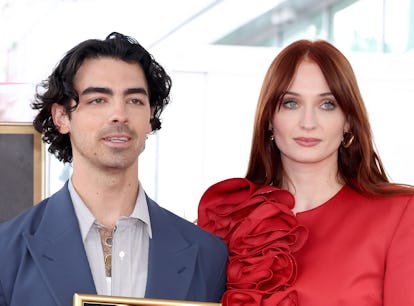 Joe Jonas Flirted With Sophie Turner During His Hollywood Walk Of Fame Speech
Amy Sussman/Getty Images Entertainment/Getty Images
Joe Jonas and Sophie Turner's romance isn't the most public. Since getting together in 2016, the couple has gotten married and welcomed two daughters, all while keeping their personal lives out of the spotlight (mostly). However, for the Jonas Brothers' Hollywood Walk of Fame induction on Jan. 30, their sweet relationship was front and center. During Joe's speech, he shouted out Sophie several times, flirting with her onstage.
"To my little ones at home, daddy loves you to the moon and back," Joe began his speech, before switching the focus to his wife. He added, "Sophie, what up, homie? You're my partner in crime. You keep me motivated and inspired everyday. I strive to be as cool as you... and you got any plans after this?" He finished off by shouting out his brothers. "Kevin and Nick, I love you like brothers. Honestly, it's been an amazing ride, and heck, we'll be here in 30 more years 'cause this is just the beginning."
The cheeky speech was posted to TikTok, where fans could not get enough of Joe's flirty humor. "Joe and Sophie really are the cool couple," one fan wrote. Another commented, "i'm such a joe girl it hurts."
TBH, this speech was a surprising moment. Joe and Sophie rarely talk about their relationship — but the reason behind their privacy is so sweet. "I want to feel like an open book," Jonas told Mr. Porter in November 2022. "But when we started dating, I realized that I didn't have a ton of stuff that was just for me. And in the end, it makes me a better person to have something for myself."
For her part, Sophie has been a little more open about their love story. In May 2022, she revealed how she knew he was ~the one~ — and it only took one meeting. "We went out and we hung out at a bar with, like, all my friends, and all his friends, and then they all came back to my apartment and we had drinks after," she explained to Jimmy Fallon on The Tonight Show. "I remember he left my apartment, and it may have been the alcohol, but I just wept to my brother. I was like, 'I love this man so much.' And I knew. And that was it."
Turns out she's got good instincts.