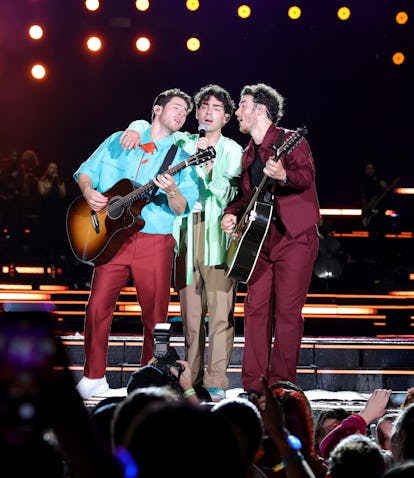 The Jonas Brothers' The Tour Set List Has A Taylor Swift Shoutout
These exes are doing "Much Better."
Kevin Mazur/Getty Images Entertainment/Getty Images
Jonas Brothers fans knew the band's 2023 tour, simply called The Tour, would be absolutely massive, but its gargantuan setlist exceeded all expectations. The career-spanning concerts were teased with the moniker "Five Albums. One Night," but in reality, the JoBros managed to squeeze in hits not only from all six of their studio albums, but from their solo projects and non-album releases as well. Basically, this is a can't-miss event for any JoBros superfan, because the set list for their 2023 The Tour is a three-hour trip through their different eras with over 60 songs.
On Aug. 12, the Jonas Brothers kicked off their 92-show world tour in Yankee Stadium in New York City. Of course, all eyes were on this first show as it finally revealed what the much-speculated-about set list would include, and what other surprises the JoBros had in store with this career-spanning tour. For Night 1, the big surprise was a blast from Jonas past, as the group's former bodyguard Big Rob reunited with them on stage to perform his verse in "Burnin' Up."
But that wasn't the only big surprise of the night. If you listen carefully, the Tour's set list includes a Taylor Swift shoutout. The band's 2009 hit "Much Better," which was written after Joe's messy breakup with Taylor, made the set list. A little reminder: The song's original lyrics go, "I get a rep for breakin' hearts / Now I'm done with superstars / And all the tears on her guitar." But the band has changed the song since then. In 2022, they introduced an updated lyric: "Now I'm cool with superstars." And for The Tour, they've stuck to the new tune, making it clear that any bad blood is over. (Considering the much-kinder version of "Better Than Revenge" on Speak Now (Taylor's Version), it only makes sense the JoBros would stick to their drama-free lyric.)
Taylor shoutouts aside, the band covers a lot of ground in their set list. Over the course of the three-hour show, they perform nearly 70 songs. That might sound nearly impossible, but they manage to fit it all in by including a trio of medleys throughout the night that merge four or five of their hits together.
Here's the full set list for The Tour:
"Wings" (instrumental)
"Celebrate!"
"S.O.S."
"Hold On"
"Goodnight and Goodbye"
"That's Just the Way We Roll"
"Still in Love With You"
"Australia"
"Hollywood"
"Just Friends"
"Games"
"Jersey"
"Hello Beautiful"
"Inseparable"
"Take a Breath"
"When You Look Me in the Eyes"
"Year 3000"
"Summer Baby"
"Vacation Eyes"
"Sail Away"
"Little Bird"
"A Little Bit Longer"
"Can't Have You"
"Sorry"
"BB Good"
"Shelf"
"Got Me Going Crazy"
"Video Girl"
"One Man Show"
"Pushin' Me Away"
"Tonight"
"Lovebug"
"Burnin' Up"
"Americana"
"Summer in the Hamptons"
"Waffle House"
"Montana Sky"
"Miracle"
"Hey Baby"
"Poison Ivy"
"Much Better"
"World War III"
"Don't Speak"
"What Did I Do to Your Heart"
"Paranoid"
"Turn Right"
"Before the Storm"
"Black Keys"
"Jealous"
"Cake by the Ocean"
"Walls"
"Comeback"
"Strangers"
"Used to Be"
"Cool"
"Trust"
"Every Single Time"
"Happy When I'm Sad"
"Don't Throw It Away"
"Love Her"
"Hesitate"
"I Believe"
"Sucker"
"Leave Before You Love Me"
"Remember This" (outro)
The North American leg of The Tour closes on Dec. 9 in New York City, before the JoBros jet over to Australia and Europe to tour throughout the first half of 2024.
This article was originally published on