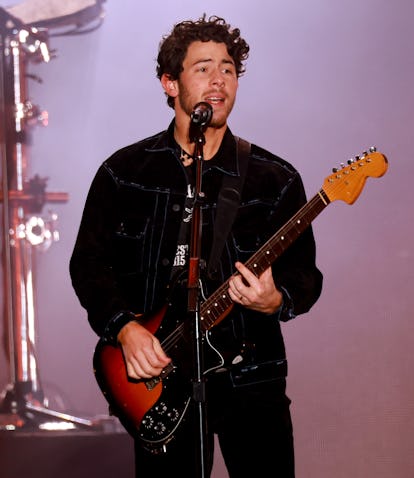 Nick Jonas Just Sang His Miley Collab For The First Time In A Decade
This is a seriously major throwback to the Niley era.
Matt Winkelmeyer/Getty Images Entertainment/Getty Images
The JoBros nostalgia has been in full effect during the band's five-night Broadway residency, and one song in particular took fans by total surprise. Nick Jonas had basically retired the 2009 track "Before the Storm," a collaboration with his ex-girlfriend Miley Cyrus, but he brought the love song back for brief bit of nostalgia during his March 16 concert. While Cyrus is off on her Endless Summer Vacation, Jonas revisited his stormy breakup by singing "Before the Storm" for the first time in a decade.
Right as Nick began belting "Don't want to lose her" during the Jonas Brothers' March 16 show at the Marquis Theater in New York City, fans knew it was a big moment. The last time Nick had performed the breakup ballad was in 2013, during the Jonas Brothers' Jonas Brothers Live tour. Even 10 years later, it was clear the song was emotional for him, and Nick only sang parts of his first verse before letting the audience finish it and handing the rest of the song off to his brother Joe.
You can check out the 2023 "Before the Storm" performance below.
There's a reason why "Before the Storm" finally resurfaced after a decade-long hiatus. The Jonas Brothers' five-night residency featured a special gimmick, wherein the band would perform each one of their albums in full on each consecutive night. When March 16 arrived, it was time for the brothers to go track-by-track through 2009's Lines, Vines and Trying Times. And that meant they couldn't skip "Before the Storm."
Even though the JoBros rarely performed it live, "Before the Storm" has remained a fan-favorite cut for years, largely because of the relationship between Nick and Cyrus. The two singers dated during their Disney Channel days in the mid-2000s, but had a messy breakup that was rumored to be the inspiration for Cyrus' 2008 diss track "7 Things." The breakup also clearly inspired "Before the Storm."
Of course, both Jonas and Cyrus have moved on to their own happy endings since then. Jonas is married to Priyanka Chopra, and has become a father to their baby girl Malti. Meanwhile, Cyrus is buying herself flowers and keeping her love life more low-key with boyfriend Maxx Morando.