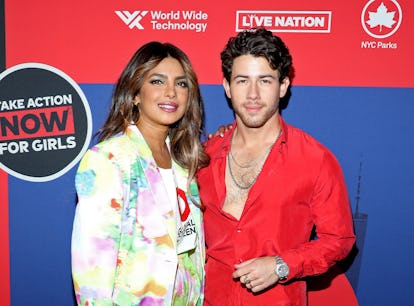 Nick & Priyanka's Matching Tattoos Are A Cute Nod To Their Proposal Story
Stop, this is so romantic!
Rob Kim/Getty Images Entertainment/Getty Images
Neither Nick Jonas nor his wife Priyanka Chopra are a stranger to body art, but they each have a pair of tattoos that carry some extra special meaning in their relationship. Chopra revealed the intimate message behind the ink she got at the same time as her husband, and it turns out, the small tats are connected to the couple's unique proposal story. Here's how Jonas and Chopra's matching tattoos celebrate their marriage.
Chopra showed off her tattoos in a Jan. 25 video interview with British Vogue, revealing she has a checkmark behind one of her ears and an empty box behind the other. The two symbols mirror matching tattoos that Jonas has on the back of his arms. The meaning of the paired checks and boxes is a tribute to how Jonas proposed to Chopra, when he told her that she checked all of his boxes and then asked her to check another one: becoming his wife.
"I have a check and a box behind my ears. My husband has them on his arms," Chopra said. "Because when he proposed, he asked me that... I checked all his boxes, and would I check another one?"
It's difficult to see Chopra's check and box tattoos because of her hair, but Jonas' arm tats have been on full display in a few paparazzi shots. The couple got the tattoos in 2019 on the one-year anniversary of their engagement, as Chopra previously told Elle.
The matching pieces of ink are the only known tattoos that Jonas and Chopra have gotten as tributes to their relationship. Chopra also has tattoos of her father's handwriting on her forearm, paw prints for her pet dogs on her ankle, and a world map on the inside of her left arm positioned so that India is always near her heart. For his part, Jonas has two religious tattoos on his arms, and an arrow he got inked with his brother Joe also on his arm.
Jonas and Chopra's relationship has been full of romantic moments like this. They first started flirting via Instagram DMs in 2016, before meeting up and dating for real in 2017. It didn't take long for Jonas to pop the question — in 2018, the couple announced their engagement, and just a few months after that, they got married. At the start of 2022, Jonas and Priyanka became parents, welcoming their daughter Malti into their family.
There's definitely a lot of love between Jonas and Chopra, and they have the romantic tattoos to prove it forever.