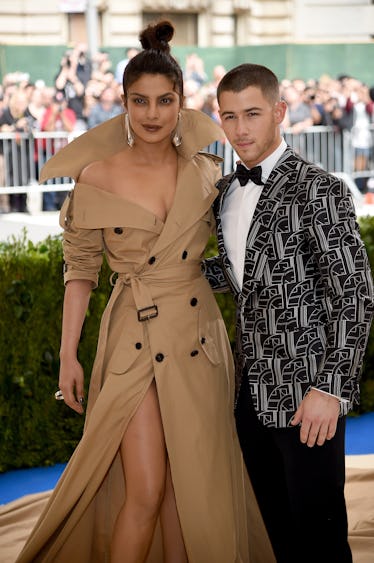 Nick Jonas May Have Confirmed His Engagement To Priyanka Chopra In The Simplest Way
Dimitrios Kambouris/Getty Images Entertainment/Getty Images
Just in case you, ya know, blinked, it was reported that on July 27, Nick Jonas and Priyanka Chopra were engaged after just two months of dating publicly. While it seems that a couple who is seeing each other for just a few months before getting engaged might feel slightly rushed, clearly, the celeb world is very different from our own (just ask Justin Bieber, Hailey Baldwin, Ariana Grande, and Pete Davidson). But the problem was that, despite all the speculation swirling around about the couple, there was no real confirmation from either party — that is, maybe, until now! Yep, Nick Jonas confirmed his engagement to Priyanka Chopra, apparently, and, even though what he said was super simple and overheard at some big celeb shindig, it still counts, OK? OK.
Here's what reportedly happened: Nick Jonas was at an event that celebrated the launch of his new John Varvatos fragrance on Wednesday, Aug. 8. Noticeably absent was Miss Chopra, maybe so she wouldn't get asked all those pesky questions like, "Are you guys really engaged?" and "When's the wedding?"
But, I digress.
During the event, an eyewitness told Us Weekly that a fellow event attendee congratulated Jonas on his recent engagement, to which he responded simply, "Thanks, man."
YOU GUYS, DID YOU HEAR THAT?
Thanks. Man. Two of the most powerful words that I could have even heard today, if I'm being honest.
Elite Daily reached out to Jonas and Chopra's teams for comment on the report, but did not hear back by the time of publication.
So, that's it you guys. Game over. If what this lucky fellow overheard is true, this really seems like the real deal, and I for one am so pumped.
And, while it was sad not to see his fiancé by his side at the event, Chopra did cheer him on from the sidelines, taking to her Instagram story to show off the finished product of Jonas' creation. "Congratulations @nickjonas and @johnvarvatos! Go get it!" she wrote, while adding a "lit" sticker, because obviously. She then wrote, "'Fragrance makes us dream'":
People reported that Jonas proposed to Chopra on July 18 — which was Chopra's 36th birthday — while visiting London together, and that the two are "so happy." Now, if you want to talk about the best birthday gift ever, reports said that Jonas shut down a Tiffany's in New York City to find the perfect ring for her.
Um, Sweet Home Alabama, anyone?
But seriously, nice work, Nick!
And if all of this doesn't make your dreams come true, then maybe hearing that Nick Jonas wants to have kids in the future — I'm presuming with Priyanka Chopra — will.
In an interview with Cosmopolitan while promoting his new fragrance, he told the magazine that while he's not completely "sure of the exact timeline," he does want to give his "nieces cousins at some point."
"[Having a family of my own] is the goal," he said, adding, "It's definitely something that I hope will happen."
I'm hoping sooner rather than later, because can you even think of a more perfect pairing to start making perfect babies?
Jonas' fragrance partner John Varvatos also chimed in, saying that Jonas would be a fantastic father. "He is great with kids," Varvatos said. "He's like a magnet to them. They latch right on. It's amazing. He's great."
You guys, I'm just feeling so many emotions right now, and they're all really good ones. So if you excuse me, I think I'm just going to go pour myself a glass of bubbly and toast to the happy couple.