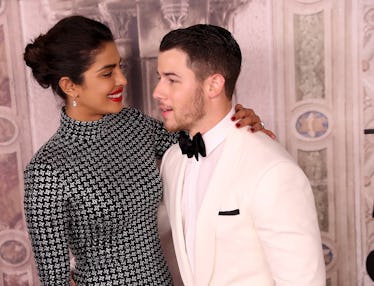 Here's Priyanka & Nick's Wedding Schedule, So You Don't Miss A Single Romantic Moment
Rob Kim/Getty Images Entertainment/Getty Images
It's wedding week! The second of the three celebrity-flash-engagement couples of 2018 are prepping to tie the knot this weekend. Yup, Priyanka Chopra and Nick Jonas are just days away from becoming Mr. and Mrs. Some reported details about the wedding have been unveiled in the days leading up to the big day, and Priyanka Chopra and Nick Jonas' wedding schedule is packed with traditional Indian wedding rituals, according to reports. Elite Daily reached out to Chopra and Jonas' teams for confirmation on the reported schedule, but did not hear back by the time of publication.
According to The Knot, the Chopra/Jonas clan have all gathered in Mumbai to get the wedding week started. (Sophie Turner and Joe Jonas included.) The families spent Thanksgiving together, as we know from Chopra and Jonas' identical Instagrams showing their large family sitting together at a swanky table. The rest of the wedding festivities are taking place this weekend, and according to an interview Chopra did with Vogue, they are pulling out every single stop imaginable for this wedding.
"People will need vacations after this wedding," Chopra said in the interview with her and Jonas, which also reveals that Jonas will literally be riding into the wedding on a horse and dressed as royalty. (It's tradition, fam.)
These two are about to have the most spectacular weekend of their lives.
Chopra and India's National Jiju (aka Jonas, who received that nickname in the Indian press meaning "sister's husband" thanks to how freaking famous Chopra is there) have a bunch of traditional Indian ceremonies they are conducting this weekend, but they're also planning on having a Christian ceremony that Jonas' father (a pastor) will officiate.
According to The Knot, the couple reportedly started off the weekend's ceremonies with a Ganesh Puja — a prayer to bless the upcoming days of wedding festivities. The puja was reportedly followed by an all-women party called a Mehndi, during which all of the women invited to the wedding gather at the bride's home to get a henna painted onto their hands and feet.
The next party to go down is called a Sangeet. And that is the party to start all of the parties. Everyone invited to the wedding weekend gets together to sing and dance and party and just celebrate the couple. Given that Chopra is Bollywood's biggest star, the party will likely include a bunch of Bollywood dance medleys. If you thought that was the last party before the actual wedding happens, think again! Jonas and Chopra will reportedly have a cocktail party on Nov. 30 as a way for their guests to get to know each other more.
And that's still not all! The next ceremony to go down will reportedly be on Dec. 1, when the Haldi ceremony takes place. During this traditional ceremony, Chopra will be covered in Haldi paste (which is a combination of turmeric, rose water, and chickpea flour) which is meant to even out her skin tone before the big day.
And then comes the wedding day. Priyanka Chopra and Nick Jonas will reportedly get married on Dec. 2 at the luxurious Umaid Bhawan Palace in Jodhpur, India. Yes, a palace.
Following the first ceremony on Dec. 2, the two will have a traditional Christian ceremony at another spot in the palace.
Outside of all of the beautiful reported details revealed about their wedding, Chopra and Jonas got candid about how their relationship started in the interview with Vogue. I'll give you a hint: he slid into her DMs.
Congrats to the soon-to-be Mr. and Mrs.!