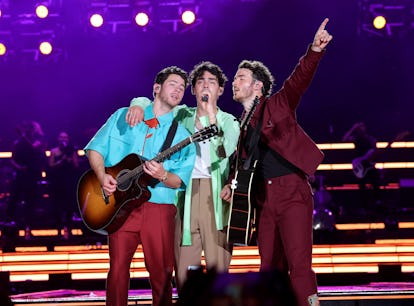 Jonas Brothers' The Tour Merch: What's Worth Buying At The Show?
A sucker for some cute swag.
Kevin Mazur/Getty Images Entertainment/Getty Images
We may receive a portion of sales if you purchase a product through a link in this article.
Just when we thought the girls were running the (music) world this summer, thanks to the success of Taylor Swift's Eras Tour and Beyoncé's Renaissance Tour, the Jonas Brothers are back on the road. After kicking off the Jonas Brothers' The Tour in the U.S. at Yankee Stadium on Aug. 12, chances are your TikTok FYP is a marathon scroll-sesh of Nick, Joe, and Kevin's career-spanning setlist — and all The Tour swag you might want to grab. Ahead of your upcoming show, you might be wondering what Jonas Brothers' The Tour merch is worth buying, and whether there are some pieces that have the potential to hit Eras Tour blue crewneck levels of popularity.
With the JoBros' The Tour set to finish in June 2024 in Belfast, Ireland, there's plenty of time to snag your ticket if you haven't already and plot out which merch pieces you need to get your hands on. Not only is everybody living for the nostalgia-inducing concert line-up and actual performances, but there has also been a lot of excitement surrounding the concert's official merch — and even a minor controversy when their song "Rollercoaster" was spelled incorrectly as "Rollercoast" on a t-shirt. "Jonas Brothers letting their homeschool education show with this merch," joked Twitter user @flywithrach.
While our favorite band of brothers has a ton of general merch on their website, they also have a capsule of The Tour-specific merch, which has everything from t-shirts and sweat sets to hats and Yankee Stadium-specific trading cards.
The Jonas Brothers' The Tour Merch Prices
TikTok user @lilbean2go gave fans a preview of the Jonas Brothers' merch from the show at Yankee Stadium, and it seems like prices are the same as they are on the website. So, it makes sense that user @michaelcasarella3 recommended that you simply order your merch online, especially since merch doesn't seem to be exclusive based on location (except for the Yankee Stadium Jonas Brothers merch on the website).
However, there's still potential for new merch drops as the tour continues. TikTok @weallgot_crowns noticed a colorful crewneck on the tour program ad that wasn't being sold at the show or on the website, so fingers crossed that new designs will be released soon for fans to purchase. VIP package holders will also get a clear bag with The Tour logo on the front as part of their ticket, but this isn't available for GA concert-goers. Here's a breakdown of the Jonas Brothers' merch prices:
Keychain — $15
New York Stadium Trading Card — $20
Tour Program — $25
Five Albums One Night Tote — $25
The Book (Pre-Order) — $29
Waterbottle — $30
New York Stadium Tote — $30
Bucket Hat —$40
New York Stadium Poster — $45
T-Shirts — $45
Sweatshirts — $75
Crewnecks — $75
Sweatpants — $75
While these merch prices definitely aren't as expensive as Beyoncé's Renaissance merch, they also aren't cheap. Until the JoBros drop new offerings, you're better off buying online so you can wear your merch while you enjoy the concert and save your coin for stadium drink and food or other fun.