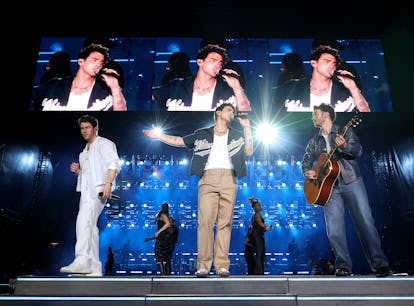 Are The Jonas Brothers' Tour VIP Packages Worth It? A Breakdown
The Ultimate Wings Lounge package is almost as expensive as a Taylor Swift VIP ticket.
Kevin Mazur/Getty Images Entertainment/Getty Images
After two sold-out nights at Yankee Stadium in NYC, the Jonas Brothers have officially kicked off their world tour — which is appropriately titled The Tour. The JoBros show, which is like the band's version of Taylor Swift's The Eras Tour, features a three-hour-long set list including five of their six studio albums. Another similarity with The Eras Tour and Beyoncé's Renaissance Tour is that the Jonas Brothers' The Tour has VIP packages available — but are they worth it?
The trend seems to be that instead of just buying front row seats at your fave concert, these days you need to purchase a VIP package. These primo tickets include early entry into the venue as well as special merch. For super fans, VIP packages seem to be worth their bougie price tag for the seats alone, but can the same be said about the Jonas Brothers' tour? While standard tickets in the nosebleeds are just $35 to $40, the Jonas Brothers' Tour VIP packages start at prices ten times that amount. There are four VIP packages in total, which are:
Silver VIP Package
Gold VIP Package
Wings Lounge VIP Package
Ultimate Wings Lounge VIP Package
Despite seeing some backstage TikToks with Nick, Joe, and Kevin Jonas, none of these Jonas Brothers VIP tickets include a band meet and greet. That perk seems to be only for invited content creators, so if all you get are floor seats and merch, you might think spending around $410 to $825 is a little too much. Before you add to cart your VIP tickets, here's a breakdown of whether they're worth it or not.
How Much Are Jonas Brothers' The Tour VIP Tickets?
Unlike Swift's The Eras Tour, which was almost impossible to buy tickets for, there are still quite a few for the Jonas Brothers in various cities. This include nosebleeds and VIP tickets, but as a fan, you likely want to be as close as possible to Nick, Joe, and Kevin when they sing their hits like "Lovebug" and "Waffle House." Prices also vary from city to city, but if there are still VIP packages left, here's what you'll be looking to spend on Ticketmaster before taxes and fees:
Silver VIP Package — $290 to $410
Gold VIP Pacakage — $335 to $505
Wings Lounge VIP Package — $519 to $655
Ultimate Wings Lounge VIP Package — $695 to $825
Those prices are actually more budget-friendly than both the Eras and Renaissance tours, especially if you're in one of the cheaper cities. Of course, factoring in what comes with each package also makes a huge difference.
Seats & Merch For Jonas Brothers' Tour VIP Packages
Both of the Wings Lounge VIP packages will get you seats on the floor, while the Silver and Gold VIP packages are just premium reserved tickets that could be on the first level of the stadium. The Ultimate VIP package will get you seats in the first five rows, while just the regular Wings package is for the first 10 rows. If you want to be as close as the fan who got to chat with Nick Jonas on the first night of Yankee Stadium, you'll want to splurge for those first five row seats.
In addition to being close to the stage, all VIP packages will also get an official VIP laminate and specially designed Jonas Brothers VIP gift item — aka a clear bag with the Jonas Brother The Tour logo on the front. You'll also have a chance to shop for merch before everyone else, and have a designated check-in. The Wings packages will also get an invite to the VIP lounge, which has a photo booth, light snacks, and two drink tickets for their speciality cocktails, according to TikToker @renetenesaca. The lounge at Yankee Stadium also had beer pong and a table for making friendship bracelets, which seems to be a tradition that's expanded beyond the Eras Tour.
You also get to take a picture in front of the stage if you get the Ultimate Wings Lounge package, but the Jonas Brothers won't be there.
Are Jonas Brothers' The Tour Packages Worth It?
VIP tickets really come down to whether you have the money to spend and how big of a fan you are. If you're a diehard JoBros fan who has been waiting for years to see them play less popular songs like "Shelf" and "Inseparable" as close to Nick, Joe, and Kevin as possible, then splurging on $700 and $800 tickets may be worth it. However, you can have just as much fun from the $40 nosebleeds.
The perks of VIP really depends on the group you're going with. It's more fun to have friends to enjoy the VIP lounge with, since it's mostly just games and a photo booth. The trouble is finding a group of people willing to spend that much on tickets. Another perk is that you can save some money on food and drinks in the lounge, but only if you like what they're serving. The VIP gift is cute, but when you compare it to everything Swift and Beyoncé fans get for their tickets, you might be wishing there was a little more in the clear bag.
The chance to buy merch early isn't even that big of a perk since, as TikToker @michaelcasarella3 points out, everything at the merch table is available to purchase online right now. You could even buy your merch before your show and not have to worry about carrying it around the day of, and you could spend your money on something else. Or, if you're following TikTok's girl math logic, your merch will be free by the time you get to the concert since you bought it months in advance.
Overall, I would say the Jonas Brothers' VIP packages are more of a drop than a cop. This is coming from someone who has been a loyal fan since 2006, has slept out overnight to meet them at a book signing in 2008, and flew across the country to attend both shows at Yankee Stadium (not in VIP). If you're cool with not staring directly into Nick, Joe, and Kevin's eyes as they sing "When You Look Me In The Eyes," save your money and treat yourself to a Waffle House dinner post-show instead.