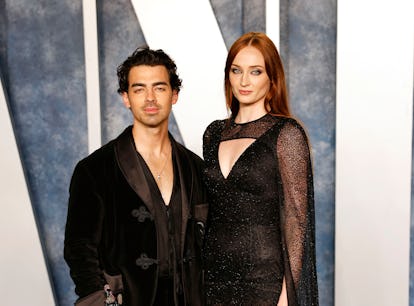 Joe Jonas & Sophie Turner Are Reportedly Getting A Divorce
Robert Smith/Patrick McMullan/Getty Images
Joe Jonas and Sophie Turner are the blueprint for cool couples everywhere, so when divorce rumors began circulating on Sept. 3 — backed up by an apparent insider source — fans were pretty upset and even more confused. As one fan wrote on Twitter, "not believing the joe jonas and sophie turner divorce rumors until one of them pulls up the notes app to tell us themselves." Then, on Sept. 5, Jonas filed for divorce in Miami Dade County, Florida, per NBC.
This update came as a shock considering that only two weeks earlier, Turner celebrated Jonas' new tour on Instagram with a photo of them together backstage. And the same day divorce speculation began, Jonas wore his wedding ring on stage at his show in Austin, Texas — with Turner (or someone who looked like her) in the audience. Not to mention, so far, there's been no word directly from Jonas or Turner confirming or denying the reports. Understandably, fans were left a little lost at the conflicting signals. So, what is actually going on? Here's a full breakdown.
Aug. 11: Joe Jonas Was Spotted Without His Wedding Ring
Throughout the month of August, the Daily Mail reported that Jonas was spotted without his wedding ring a few different times. On Aug. 11, the singer was photographed — sans his ring — running errands in Manhattan.
Aug. 16: The Couple Reportedly Sold Their Miami Mansion
People reported that Jonas and Turner sold their Miami home for $15 million on Aug. 16. After buying the property in 2021, the couple originally put it on the market in December 2022. However, in hindsight of the divorce rumors, skeptics thought the timing was telling.
Sept. 3: Multiple Outlets Reported Joe & Sophie Were Getting Divorced
TMZ published a report that claimed Jonas and Turner were "headed toward divorce" on Sept. 3. At the time, the outlet claimed that Jonas had reached out to two divorce lawyers in Los Angeles and that he was preparing to file. Per TMZ's source, the couple has been facing "serious problems" over the past six months — and over the last three months, Jonas has reportedly been the one caring for their two daughters "pretty much all the time."
That same day, People confirmed the rumors, with a source telling the outlet that Jonas had retained counsel. At the time, Turner's rep declined to comment.
Sept. 3: Joe Wore His Wedding Ring On Stage & Posted Photos Wearing It
That same night, Jonas was set to perform with his brothers, and amid all of the breakup rumors, he decided to wear his wedding ring for the concert. Turner — or a Turner lookalike — was also seemingly in the audience, per a video posted by Not Skinny But Not Fat.
In case Jonas wearing his ring at the show wasn't clear enough, over Labor Day Weekend, he uploaded two photos of himself on Instagram. In both pictures, his ring was prominently featured.
Sept. 5: Joe Filed For Divorce
Jonas reportedly filed for divorce on Sept. 5. Per the court documents, obtained by NBC's Today, "the marriage between the parties is irretrievably broken." Apparently, Jonas is asking the court to uphold their prenuptial agreement, made in 2019. The papers also mentioned the couple's two children: "It is in the best interests of the minor children that the parties have shared parental responsibility."
This article was originally published on