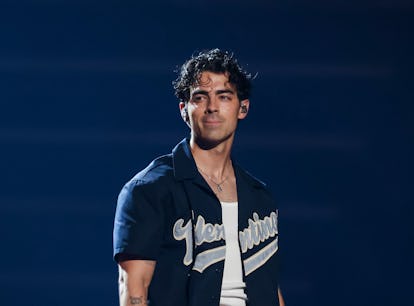 Joe Addressed All Those Rumors About Why He's Divorcing Sophie
Scott Legato/Getty Images Entertainment/Getty Images
There's been a lot of chatter about why Joe Jonas and Sophie Turner are ending their marriage, but the actual couple hasn't spoken out about it... until recently. Joe Jonas finally addressed all those reports about his divorce during a recent concert and seemed to take aim at the gossip surrounding the reason for the split. Here's what the JoBro had to say.
Ever since Jonas and Turner confirmed they were divorcing on Sept. 6, there has been a deluge of reports attempting to explain what went wrong. In particular, TMZ has cited unnamed sources claiming lifestyle differences and an alleged scandal caught on a ring camera were the cause of the split. However, Jonas and Turner have remained silent on the reason for their decision, simply releasing a statement asking for privacy during the emotional time. But Jonas did finally speak out about the rumors during his Sept. 9 concert in Los Angeles.
"It's been a tough week," Jonas told the crowd. "I just want to say, look, if you don't hear it from these lips, don't believe it. OK? Thank you everyone for your love and support. Me and my family love you guys."
After the brief statement, Jonas visibly teared up while performing "Hesitate," the love song that he wrote for Turner. He previously changed a lyric in his live performance of the song in the wake of the divorce announcement.
Jonas and Turner's divorce announcement came as a massive shock to fans who had closely followed the couple's seven-year romance. They first got together back in 2016 after Jonas slid into Turner's DMs. Three years later, they were saying "I do" in a spontaneous Las Vegas wedding, which was followed by a more traditional wedding in France a month later. They welcomed their first daughter, Willa, in 2020, and had a second daughter, whose name has not been made public, in 2022. According to the former couple's divorce filings, Jonas and Turner plan to continue co-parenting their daughters, equally splitting the time and responsibilities.
Despite all the gossip, there's still no clear explanation for what prompted Jonas and Turner to call it quits. As Jonas himself said, it sounds like fans won't get any clarity until the former couple decides to reveal the truth on their own terms.