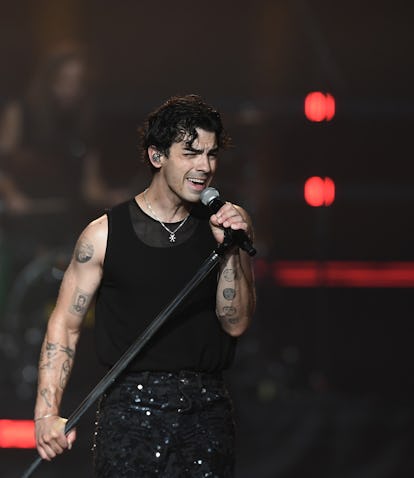 Joe Changed A Lyric About Sophie In "Hesitate" Following Their Divorce
Can never hear this song the same way again.
In the wake of Joe Jonas and Sophie Turner's divorce announcement, Jonas Brothers fans have been keeping an especially close eye on one song in their tour set list. The band's 2019 song "Hesitate" is well-known among the fandom to be Jonas' love letter to Turner, in which he vows to always support and uplift her. Of course, the track quickly went from romantic to painful after the divorce revelation, but Jonas sent a subtle message in his first performance of "Hesitate" post-breakup with a meaningful lyric change.
All eyes were on the Jonas middle child during the group's Sept. 6 concert in Phoenix, Arizona. Earlier that same day, he and Turner confirmed the rumors that they were divorcing after four years of marriage. While he didn't address his relationship drama directly onstage, he seemed to send out a small signal while singing "Hesitate." As pointed out in a now-viral TikTok of the performance, Jonas changed the lyrics in the bridge from "Don't be scared 'cause I'm on your side" to "Don't be scared 'cause I'm on her side."
The emphasis on "her" is being interpreted differently by fans. Some think the change is Jonas reassuring people that he is still on Turner's side, fighting back against the growing media spin on their separation. Others think that replacing "your" with "her" was a way to depersonalize the song for Jonas, so that he didn't have to imagine singing it to his ex-wife.
Jonas has said in the past that he imagines his and Turner's wedding every time he sings the song. "It takes me to a whole different universe. I'm seeing her walk down the aisle again every time I close my eyes," Jonas confessed in his 2020 Happiness Begins documentary. He described the romantic track as being his wedding vows for Turner.
Another interpretation of the lyric change is that Joe may be singing to his daughters instead of Turner during the performance. The couple has stated they are committed to co-parenting their two young daughters in their divorce filings.