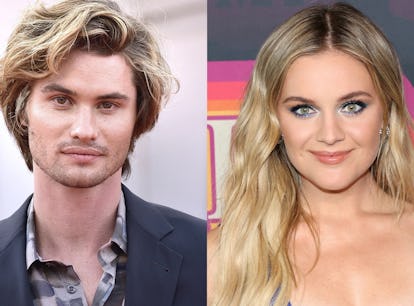 Chase Stokes & Kelsea Ballerini Have Apparently Been "Flirting" A Lot
Seems like they're avoiding labels.
Mondadori Portfolio/Getty Images Jason Kempin
Chase Stokes and Kelsea Ballerini might be cozying up. The two recently sparked dating rumors after the Outer Banks actor posted a photo of them together on Instagram. As of now, it's unclear if the duo are *officially* an item — and according to a source, it was just "innocent" flirtation.
On Jan. 27, a source told US Weekly, "Chase and Kelsea have been flirting back and forth since meeting through friends at the College Football National Championship Game in L.A., but they're not together."
That doesn't mean there's no hope, though. "Something may happen down the line, but it was just innocent on both sides," the insider added. "They both think the other is very attractive, so you never know."
ICYMI, on Jan. 13, romance rumors started after Stokes shared a photo dump on Instagram captioned "lil recap." The carousel of photos features the actor posed in a chocolate brown suit and taking selfies in a car. The main picture that stood out was the third slide, which sees him snuggling up with someone at a football game. Stokes then confirmed the woman was Ballerini by tagging the country singer in the photo.
According to US Weekly, the pair attended the College Football Playoff National Championship between the TCU Horned Frogs and the Georgia Bulldogs on Jan. 9. Ballerini even showed some sportsmanship in the comments of Stokes' post; however, the shoutout was for her hometown of Tennessee. "Go vols," the singer wrote, referring to the University of Tennessee's football team.
During the game, Stokes and Ballerini also posed for a group photo with the CEO of Raising Cane's Chicken Fingers, Todd Graves. Other celebrities such as Dylan Sprouse, rapper YG, and Lauv are also featured in the photo. As for the rumored couple, they can be seen in the lower right of the picture, looking pretty comfortable together.
"Energy still high from an exciting game on Monday night! I say we keep it going…stay tuned for something big happening this week!" Graves captioned the group photo on Instagram. Ballerini acknowledged the post, leaving three white hearts in the comments section. Meanwhile, Stokes commented, "Appreciate the hospitality my man!" under the photo.
At first, Stokes and Ballerini let the photos speak for themselves — but on Jan. 16, Ballerini responded to the dating rumors on TikTok. The singer posted a screenshot of a Deux Moi post, where someone claimed Ballerini was "too busy consistently asking out the manager of soho house nash" to date Stokes. Ballerini added her own two cents: "I know, I know, I know. Stop reading, stop reading. Stop looking. But what is happening, guys. What? Let's not do this."
Her caption underscored her annoyance. "I'm about to break up with the internet 5 sure," she wrote.
Then, Stokes also responded to the dating rumors in a different way. On Jan. 18, the actor told TMZ that he and Ballerini are just "having a good time." He even thanked the videographer when she described them as "the cutest couple."
This potential new romance comes sometime after Stokes and Ballerini both publicly got out of serious relationships. Stokes previously dated his Outer Banks co-star Madelyn Cline, but they split in November 2021. According to People, the stars reportedly broke up due to their busy schedules and even attempted to repair their relationship before calling it quits.
As for Ballerini, she separated from fellow country singer Morgan Evans in 2022 after five years of marriage. Billboard reported the former couple met in March 2016 and got married nearly a year later. The "Miss Me More" singer announced the news of their divorce in an Instagram Story in August 2022.
"I've always tried to share my life with you in a real and vulnerable way, while also protecting layers of my personal life as they unfold," she wrote at the time, per Billboard. "This is now public record so I wanted you to hear from me directly that I am going through a divorce."
Time will tell if this apparent new connection between Stokes and Ballerini becomes something more.
This article was originally published on