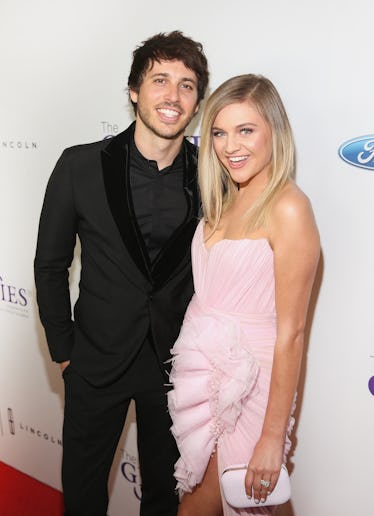 Kelsea Ballerini's Husband Made The Cutest Cameo In Her "I Hate Love Songs" Video
Jesse Grant/Getty Images Entertainment/Getty Images
Kelsea Ballerini and her husband Morgan Evans are total #CoupleGoals. First, the 24-year-old "Legends" singer shared a romantic AF smooch with her man on the 2018 CMT Music Awards red carpet in Nashville on June 6. And now, we have the release of Kelsea Ballerini's "I Hate Love Songs" music video, in which Evans makes a pretty dope little cameo. Seriously, how cute are these two? Although TBH, the whole thing is actually kind of ironic, considering the song not only makes fun of all the silly things couples do when they're in love, but also de-glamorizes all the generic stuff that's related to being head over heels — you know, like Valentine's Day, rom-coms, Shakespeare, and, um, Ryan Gosling.
I love you Ballerini, but leave my Gosling alone!
Anyway, the Grammy-nominated country singer is wearing a hot pink ballgown and matching sparkly undies in the music vid, which opens with her spinning around on a big red heart while confetti hits her in the face. She then dodges the clichéd bouquet toss at a wedding, interrupts a proposal in a diner, pops a bunch of Valentine's Day balloons, and third-wheels with a couple who is just tryin' to Netflix-and-chill. Eventually, in a fake scene right out of The Notebook, she meets up with a boy in the pouring rain. But when she goes in for the big romantic kiss, she winds up getting rain in her eyes instead, and so she grimaces and runs off set to get ceremoniously wrapped up in a wool blanket and shuttled out of view. Hilarious! Of course, once she's safely inside, her cell phone rings with a phone call from "M," which she answers with a big smile in the very last scene. And obviously, that "M" means her perfect hubby, Morgan, is calling her to brighten her day all the way up!
So much for cynicism — looks like true love wins out, after all.
Watch:
So good, right? Also, can I pay someone to swipe that red leather jacket for me? Because I need to own it ASAP.
Ballerini announced that the video had dropped by sharing an adorable clip of herself on her Instagram feed. "I HATE LOVE SONGS MUSIC VIDEO IS HERE," she wrote in all caps. "IM CALM AND THE LINK IS IN MY BIO."
She is just so freaking cute!
Meanwhile, the thing that's so cool about this video — besides Ballerini's wardrobe — is the fact that as a viewer, you really do get a sense of what the singer is all about when you watch it. Like, it's clear that she loves love, while at the same time shunning all the frou-frou trappings that come along with it.
"Essentially, what I love about this song... is it's all the clichés that society and the world paint love to be and that's just not what it is," she previously told Elite Daily. "I feel like just those moments of [the] pureness of love, that's what it really is. But it's kind of like, the humor of fighting through all the glitter and all the bull."
I SO feel this. Oh, and Ballerini's clearly got a killer sense of humor, too.
"I really wanted to do something kinda funny," she explained in a behind-the-scenes on-set video with iHeartRadio. "What I loved about the treatment was it took lines from the song and just kinda made it real life."
"I Hate Love Songs" is off of Ballerini's latest release, Unapologetically. She performed a stripped-down arrangement of the single at the CMT Music Awards, and she will hit the road this summer as a supporting act on Keith Urban's Graffiti U World Tour. For tickets, hit up her official website.