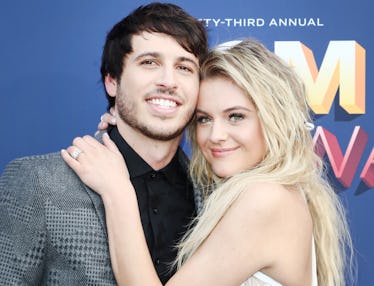 Kelsea Ballerini & Her Husband Looked So In Love On The ACM Red Carpet & I'm Swooning
Kelsea Ballerini and Morgan Evans' honeymoon might be long over, but their honeymoon phase is still going strong. The newlyweds attended the Academy of Country Music Awards on Sunday, April 15, and the photos of Kelsea Ballerini and Morgan Evans at the 2018 ACMs are so stinkin' adorable. Ballerini was up for Female Vocalist of the Year at the ACMs, and her music video for "Legends" was also up for Video of the Year. She didn't end up winning either of her categories, but she did give one of the most memorable performances of the night, which included her descending onto the stage in a giant neon heart.
Ballerini and Evans were basically the personification of the heart eyes emoji while walking the ACMs red carpet on April 15. It was one of the couple's first red carpets together since tying the knot on Dec. 2, 2017, in Cabo San Lucas, Mexico, and they looked so in love while walking it. They've made it clear how much they love each other in past interviews, too.
Before their December wedding, Evans did an interview with People that was all about his relationship. In the interview, Evans said they knew each other was the one so quickly that by the time they got married, they felt like they had been waiting a lifetime. "Everyone keeps telling me how good [marriage] is," Evans said. "I think we both knew we were going to be together forever so early on that it almost feels like it's been too long. We should be married already. It's exciting."
Yeah, these photos of Kelsea Ballerini and Morgan Evans on the ACMs red carpet make it easy to tell how head over heels these two are for each other.
Giving me all the feels here, people!
I want to frame this and I've never even met these people.
Ballerini wore an AADNEVIK floor-length white dress with matching white heels. Evans wore a Joseph Abboud suit, but honestly, these two could walk a red carpet in a burlap sack and I would run to Home Depot to buy 12 burlap sacks.
Here they are being cute AF again in an interview on the red carpet.
And not only did they look so comfortable being on the red carpet and doing this interview together, but they also teased that we could be hearing a collaboration coming from them in the future. "We may be working on something," Evans teased. "There may be something in the works."
Ballerini performed her newest single "I Hate Love Songs" at the ACMs on April 15 and literally descended from the ceiling in a giant neon heart.
The song picks apart love clichés we always hear in songs. It starts off with Ballerini singing, "I hate Shakespeare and Gosling and cakes with white frosting. Two names in a heart-shaped tattoo." First of all, Kelsea, I will not stand for this Ryan Gosling slander. Anyways, the song continues to call out love song tropes. She sings, "I think cupid is stupid and violets are purple not blue." I mean, that's true.
The song continues to list the many cliche things Ballerini apparently hates about love songs. She sings,
I hate catching bouquets, the honeymoon phase / And letterman jackets don't fit / Your eyes can't hold stars and you'd die if your heart really skipped
But the chorus changes things up a bit. It goes,
I hate love songs (I hate love songs) / Yeah, I really do (I really do) / I hate love songs (I hate love songs) / But I love you
Ballerini said in a video of her ACMs rehearsal that her performance was going to be one of her biggest yet.
And based on how in love she and Evans looked on the ACMs red carpet, I'd say it's safe to say that when she sang the lines "I hate love songs, but I love you" at the ACMs, she definitely had Evans in mind.