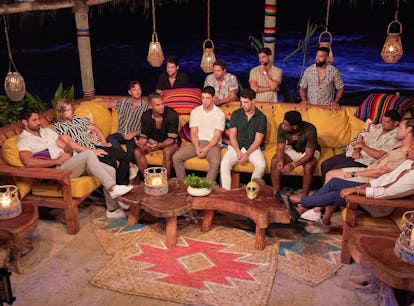 Bachelor In Paradise Saw A Mass Exodus Ahead Of The Final Ep
Literally, almost everyone left the beach.
ABC/Craig Sjodin
It might be fall in the real world, but it's still summer in Bachelor Nation. Everyone's favorite Bachelor franchise spinoff is back for Season 8, and things are heating up on the beaches of Paradise. Season 8 has brought all the beachy summer vibes back as Bachelor Nation fan-favorites (and not-so-favorites) return for another chance at love.
Along with a cast made up of former Bachelor and Bachelorette hopefuls, Jesse Palmer is hitting the beach, marking his first time hosting BIP. Wells Adams, Paradise's resident bartender and de facto voice of reason/armchair therapist, is also back. Wells teased some of Season 8 during an appearance on Bachelor Nation alum Nick Viall's podcast The Viall Files, explaining that this season has 13 more hours of content than previous seasons, so there's extra room for BIP to get silly.
"All the things that in the past would have been left on the cutting room floor will now be in the show, and that's usually where I live," Wells said. "When they're like, 'You need to go do this weird reenactment.' Or like, 'Puppets need to happen.' You know, all that kind of stuff. So I'm excited for that."
As fun as all the silliness is, the point of BIP is for the cast to find love. So here's your breakdown of all the drama with the cast on their journeys toward possible engagements.
Week 9 (Nov. 21 Episode)
It's been a long, long summer of Paradise, but we've finally made it to the final week of Season 8. And that means it's time for couples to make their final decisions. In the Nov. 21 episode, heavy conversations were had, couples split up, and lots of people left the beach. The first to leave was Mara, who self-eliminated at the very beginning of the episode. She was the only person on the beach not to be coupled up, and so she decided to leave instead of enduing a rose ceremony by herself.
But the rose ceremony wasn't free of breakups. When Logan got up to offer his rose to Kate, she was prepared with a full speech to explain why she couldn't be with him. She told him she couldn't be with someone who saw her has cold and critical, and so she couldn't accept his rose. Logan left saying he felt like he had lost a piece of himself in his relationship with Kate, while Kate left praying for a guy with "a big d*ck and a bigger bank account."
The rest of the rose ceremony went pretty much as expected. Here's the full list of roses:
Michael to Danielle
Brandon to Serene
Johnny to Victoria
Tyler to Brittany
Aaron to Genevieve
Justin to Florence
Joey to Shanae
The real drama began after the rose ceremony. That's when Jesse Palmer told everyone Paradise was over, because now it was time for some serious conversations and big decisions about the fate of their relationships. First Brittany and Tyler had a talk and realized they were on the same page; they were in love but did not want to get engaged yet, and so they decided to leave Paradise together.
Joey and Shanae, on the other hand, were not on the same page. Shane told Joey she didn't want a TikTok husband, and so they broke things off, as did Joey's twin Justin and Florence. Then, it was time for Aaron and Genevieve to have their big talk. They remained on brand through the very end by turning their breakup conversation into not one, but two blowout fights. After a whole lot of yelling, Aaron and Genevieve went out the way they came in: in a blaze of fiery passion.
Michael and Danielle have been one of Paradise's strongest couples since they paired up, so it seemed pretty obvious that they would leave the beach together. But, they still had their own big talk and they realized that they weren't in a place to get engaged yet. They made plans to meet each other's families and see where the future takes them as they left Paradise together.
So that left two remaining couples for Fantasy Suites: Brandon and Serene, and Johnny and Victoria. They seemed happy heading into their overnight dates, but the real test will come when it's time for engagements.
Week 8 (Nov. 14 & Nov. 15 Episodes)
After a rough breakup between Eliza and Rodney in the previous episode, the Nov. 14 episode kicked off in a somber mood. The whole beach was hurting on Rodney's behalf, expect for Eliza, who was determined to win Justin back. She left the beach to travel to Maryland to tell Justin she made a mistake and actually wanted to pursue a relationship with him. Justin was surprised to see her, and another Justin meme was born from the moment he opened the door to find her there. But he told Eliza that he wanted to be with someone who was sure she wanted to be with him, and unfortunately Eliza made it clear that wasn't her when she didn't give him her rose. Justin turned Eliza down, making her the next BIP elimination.
Back on the beach, there were a few new arrivals: Mara Agrait, Ency Abedin, and Lindsay Dobbs. Mara went on a date with Justin and Ency went on a date with Andrew, but unfortunately for Lindsay, she had trouble securing a date of her own. She did ask Logan to go on a date with her right when she arrived on the beach, but he told her he was too committed to Kate to be able to pursue anything with her. With that, Lindsay announced that she was just going to turn around and head home because she didn't think "her person" was on the beach, giving Bachelor Nation one of the quickest BIP exits ever.
In the following night's episode, the committed couples — like Brittany and Tyler, Brandon and Serene, and Michael and Danielle — doubled down on their relationships. Meanwhile, the couples that were struggling continued to struggle. To start, Bachelorettes Gabby Windey and Rachel Recchia dropped in on the beach and spent most of their time there telling Kate about their concerns about Logan. That caused a rift between Kate and Logan, but they were able to sort it out and last another night in Paradise.
Andrew, however, was not so lucky. After hitting it off with Ency, he went with her to the Sadie Hawkins dance and was having a good time with her until Jessenia took him to the side for a private conversation. She told him she was upset about how he'd strung her along, but Andrew said he was just trying to be open to love. Then, things got even more complicated when Ency joined the conversation and asked Andrew to stop talking to Jessenia if he wanted to continue his relationship with her. Andrew kept talking to Jessenia, though, which was a major breaking point for Ency.
Jessenia reached her own breaking point during her conversation with Andrew when he revealed the real reason he'd been struggling in Paradise: He still had feelings for Teddi. With that news, Jessenia decided to self-eliminate, and Andrew realized it was all too much for him. He told Ency he couldn't stay in Paradise after the way everything went down. No matter how much Ency begged, Andrew asked her to let him go. She did, making Andrew the second self-elimination of the night.
Ency was left in tears and faced her own decision about whether or not to stay in Paradise. She was distraught over Andrew's exit and said it hurt way more than The Bachelor. Ultimately, Ency self-eliminated too, making this love triangle officially over on all three sides.
Week 7 (Nov. 7 Episode)
The Nov. 7 episode kicked off with a contentious cocktail party that largely focused on two love triangles: Kate, Logan, and Hayden; and Eliza, Rodney, and Justin. The women at the center of each trio agonized over their decisions right up until it was their turn to give out their roses at the rose ceremony.
Here's who gave their roses to whom:
Serene to Brandon
Genevieve to Aaron
Victoria to Johnny
Danielle to Michael
Jessenia to Andrew
Brittany to Tyler
Florence to Justin
Shanae to Joey
Kate to Logan
Eliza to Rodney
That meant the following dudes were left to kick rocks: Justin (again), Hayden, Jacob, and Alex.
That should have been it, right? Of course not! The morning after the rose ceremony, Eliza was distraught, and realized she wanted to be with Justin, not Rodney. So, she left the beach in hopes of finding Justin and winning him back. That left Rodney heartbroken, and he, too, left Paradise.
The rest of the BIP cast was shook by the loss of Rodney, who seemed to be the cast-favorite in addition to fan-favorite. How everyone will fare without that ray of sunshine around remains to be seen.
Week 6 (Oct. 31 & Nov. 1 Episodes)
Week 6 of Bachelor In Paradise kicked off with the third rose ceremony of the season. (Finally!) The women had the roses again this time around, and while most couples were pretty well established, a few men were on the chopping block. Most notably, Victoria Fuller had to choose between the guy she'd formed a connection with before Split Week, Johnny DePhillipo, and the man she recently started getting closer to, Alex Bordyukov. Although she claimed Johnny felt "like home," she also said Alex had all the qualities she wanted in a husband. In the end, though, Victoria chose Johnny at the rose ceremony, leaving Alex without a partner.
However, just when it looked like Alex was out of the game, Florence Alexandra swooped in to give him her rose. Florence hasn't yet made a strong connection with anyone on the beach, so it wasn't a huge shock that she saved Alex, especially considering the only other guy left was Adam Todd, who's had barely any screen time during the season. So, Adam left, and Alex gets to stay around for at least another episode, forced to watch Victoria and Johnny get closer while he waits around in case they fizzle out.
Here's the full list of who got roses from whom during the Oct. 31 episode:
Serene to Brandon
Danielle to Michael
Shanae to Jacob
Eliza to Rodney
Genevieve to Aaron
Kate to Logan
Brittany to Tyler
Jessenia to Andrew
Victoria to Johnny
Florence to Alex
The only other exit during the episode was that of Sarah Hamrick, who left off camera due to a family emergency.
There was also an arrival on the beach… but it wasn't that of a new cast member. Justin Glaze returned to Paradise after getting eliminated earlier in the season. He said that after hearing Eliza was on the beach, he asked to come back to pursue her. And that he did — he showed up with a date card and immediately asked Eliza out, and when Eliza's current beach BF, Rodney, didn't object, she decided to go with him. And thus a new love triangle is born.
The following night's episode started off with a bang. None other than Hayden Markowitz, the Bachelorette Season 19 villain himself, arrived in Paradise right at the start of the Nov. 1 episode. He swiftly lived up to his rude and obsessed-with-Rambo reputation, and Kate Gallivan was pretty unimpressed after he used a date card on her.
But he wasn't the only Bachelorette Season 19 alum to show up to the beach this episode. Anyone remember the identical Italian twins, Justin and Joey Young from The Bachelorette? If not, it's probably because they were kicked off in the very first episode because Rachel Recchia and Gabby Windey had no interest in them. Thankfully, history didn't repeat itself this time around. Florence Moerenhout and Shanae Ankney were initially a bit worried that the Youngs were ~too young~ for them, but both BIP stars seemed to vibe with their respective twins after they went on dates. (Justin and Flo appeared to hit it off, and so did Joey and Shanae.) There were no exits this episode, but something tells me Markowitz, at least, may not last so long.
Week 5 (Oct. 24 & Oct. 25 Episodes)
Split Week continued in earnest during Week 5 of Bachelor In Paradise, and relationships suffered from it. First up was Lace Morris and Rodney Mathews. After Lace spiraled about what was happening with Rodney, she slipped away from the rest of the group and went back to the beach to check in on her partner. Unfortunately for Lace, she came back to the beach as Rodney was off on a date with Eliza Isichei, and the two were really hitting it off. Upon Rodney's return, he told Lace he wanted to continue pursuing Eliza, so Lace exited the show with a tearful goodbye.
Next on the chopping block were two of the new men who joined the original women at the resort: Rick Leach and Olu Onajide. When Jesse Palmer had a heart-to-heart with the original women about who they felt connections with, no one spoke up to claim Rick nor Olu, so Jesse sent them home.
And finally, one of the saddest losses of the season: Jill Chin. Once it was time for the original women to return to the beach, Jill was expecting to have a happy reunion with the guy she'd previously been connected to, Jacob Rapini. However, shortly after Jill's reappearance, Jacob pulled her aside to tell her it just wasn't going to work between them. So, Jill self-eliminated, leaving the beach with an emotional yet iconic car ride mourning her relationship with a guy who "sold his couch for cash."
The promo for next week's episodes teases some exciting newcomers (and one extremely familiar face), so stay tuned for more drama to come.
Week 4 (Oct. 17 & Oct. 18 Episodes)
Big changes came to the beach in Week 4. First, during the Oct. 17 episode, it was finally time for the second rose ceremony. It looked like five guys were going to be eliminated during the ceremony, and the tension was high. It was so high, in fact, that things boiled over right before the rose ceremony, which changed everything.
First Casey told Brittany that Pizza Pete had called her "clout-chaser," which caused a shouting match to break out on the beach. Casey was overwhelmed by all the drama he started, and he passed out, hurt his ankle, and needed to be taken off the beach by a medic. Then, Pizza Pete decided to self-eliminate once it became clear that no one was going to give him a rose.
Michael was also pretty sure he was headed home... until he received a Paradise miracle. Danielle Maltby joined the beach and they immediately hit it off, in part thanks to the friendship they'd formed before Paradise.
So, after Danielle joined the beach, here's how the rose ceremony turned out:
Serene to Brandon
Jill to Jacob
Lace to Rodney
Genevieve to Aaron
Shanae to Logan
Victoria to Johnny
Brittany to Andrew
Danielle to Michael
That meant that James and Justin joined Casey and Pete in leaving BIP during Week 4.
But that wasn't it for the drama this week. It was finally time for Split Week, when the women and men were separated and new groups of people joined the beach. First, was the new group of women: Kate Gallivan, Eliza Isichei, Jessenia Cruz, Sarah Hamrick, and Florence Alexandra. Then, there was the new group of men: Adam Todd, Alex Bordyukov, Olu Onajide, Rick Leach, and Tyler Norris.
The new additions to BIP shook up the beach in a big way, so you know there are going to be some big eliminations next week.
Week 3 (Oct. 10 & Oct. 11 Episodes)
Audiences were treated to another two episodes of BIP on Oct. 10 and Oct. 11, which meant another whopping four hours of drama… and yet no rose ceremony. But that doesn't mean there weren't some tense exits from the beach.
The women had the roses this week, and so that meant most of the men were trying their hardest to woo the women and make sure they got to stick around. However, Michael Allio felt he needed to follow his heart, which was telling him things were getting too serious too fast with Sierra Jackson. He broke things off with her, which prompted Sierra to self-eliminate. "I don't want to see him dating other people, so I want to go home and be with my family," she said as she left Paradise.
After Sierra left, everyone felt like it was time for another woman to make her way to the beach, and they were right. Salley Carson finally joined Paradise, days after her luggage made it there without her. But she didn't last very long. Right after she arrived, Genevieve Parisi and Shanae Ankney questioned Salley about her relationship with her ex-fiancé, a topic Salley adamantly did not want to discuss on the show. Salley got upset and told Justin Glaze, "They asked me if I had a conversation with my ex before I came here. That pisses me off because they know how much I didn't want my ex's name or any of that situation brought into this, out of respect for him. So out of respect for him, I want to leave."
So, almost as quickly as she came in, Salley was gone. After Salley's departure, things returned to normal, or as normal as they get in Paradise. But, at the end of the Oct. 11 episode, Kira Mengistu returned to Paradise to try for one more shot with Jacob Rapini. But he turned her down because he'd already formed a really strong connection with Jill Chin. Kira was determined not to leave BIP alone this time, though, so she sought comfort from Romeo Alexander. She asked Romeo if he wanted to leave Paradise that night with her, and after a very long pause, he agreed, making Romeo the final BIP hopeful to leave the beach this week
Weeks 1 & 2 (Sept. 27, Oct. 3, & Oct. 4 Episodes)
As is always the case with BIP, things kicked off into high gear for the start of Season 8. Some couples got solidified pretty quickly: Michael Allio and Sierra Jackson, and Brandon Jones and Serene Russell formed strong connections and spent most of the first few episodes practically joined at each other's hips. Other cast members didn't have such smooth sailing, though.
First, a love triangle sprung up between Romeo Alexander, Jill Chin, and Kira Mengistu, but that all kind of blew up in Romeo's face after he spent too much time trying to play the field. Another love triangle began between Justin Glaze, Genevieve Parisi, and Victoria Fuller after Justin and Genevieve formed a connection, but Victoria brought Justin on a 1-on-1 date. It turns out Genevieve didn't have much to worry about, though, because Victoria also had her sights set on Johnny DePhillipo, even though he had already hit it off with Hunter Haag. To top it all off, Lace Morris, Hailey Malles, and Kira were all interested in Jacob Rapini's rose.
Suffice it to say, there was a lot of tension going into the first rose ceremony, but in the end, Kira, Hunter, and Hailey were eliminated. Here's how the guys handed out their roses at the end of the Paradise rose ceremony:
Andrew to Teddi
Brandon to Serene
Michael to Sierra
Logan to Shanae
Casey to Brittany
Jacob to Lace
Justin to Genevieve
Johnny to Victoria
Romeo to Jill
After the first rose ceremony, there was some peace on the beach. But as Jill said when she accepted Romeo's rose, "nothing is guaranteed in Paradise." Cue: new cast members joining the beach. Aaron Clancy and James Bonsall came in together and hit it off with Genevieve and Shanae, respectively, on a double date.
After that, Ashley Iaconetti and Jared Haibon showed up to offer some advice from their perspective as a Paradise success story. Teddi confided to Ashley that she was a little unsure about her feelings about Andrew.
Rodney Mathews headed down to the beach next, and Jill was super excited to see him. But so was Teddi, and that made her even more confused about her feelings. She felt like she couldn't find love in Paradise at all, so she surprisingly decided to self-eliminate.
With Teddi gone, that's one rose gone. The women are handing out the roses at the next rose ceremony, so the competition will be fierce among the men.
Bachelor In Paradise airs Mondays and Tuesdays on ABC.
This article was originally published on