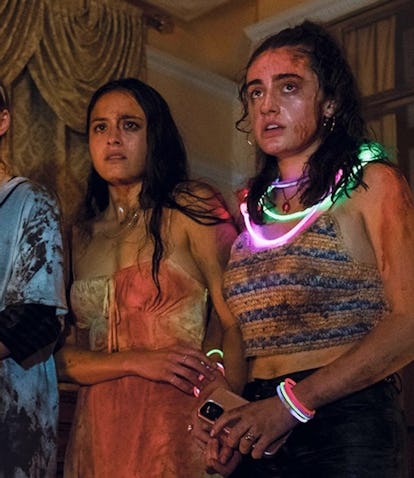 The 23 Most Gag-Worthy TV & Movie Plot Twists Of 2022
It was a big year for WTF moments.
A24
The best moment in any great TV show or movie is that scene that makes your jaw hit the floor as you text your group chat "WTF just happened?!" And 2022 definitely delivered when it came to truly gaggy, unexpected moments. From totally unexpected character reveals to bloody deaths nobody saw coming, these are the most shocking TV and movie plot twists of 2022.
Looking back, this really was the year of the twist. The past 12 months were packed with so many shows and films that turned everything on its head in the third act, and those moments immediately became the most memorable and iconic for good reason. Everyone was screaming at that death in The White Lotus' Season 2 finale, and spitting out their drinks once Stranger Things revealed the truth about Vecna. Whether you were in a movie theater full of gasping people when that Don't Worry Darling reveal happened, or you were freaking out while streaming it alone on your couch, there's no forgetting that initial shock you had to a truly well-executed plot twist.
So! Let's relive some of the most exhilarating pop culture moments of the year — and obviously, this list is filled with spoilers, prepare accordingly.