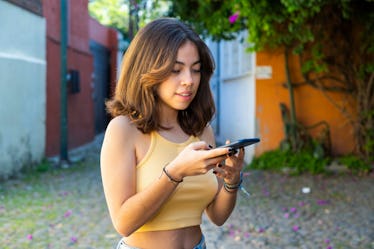 12 Polite Rejection Texts To Send After A First Date
Sergio Mendoza Hochmann/Moment/Getty Images
Not all first dates are good. In fact, in my experience, most are not. It can be hard to find someone you really connect with, and it's nobody's fault if you just don't feel the chemistry on the first date. If you're looking for tips on polite rejection texts to send after a first date, or even a few rejection text message examples, I've got you covered.
If you want to know how to let someone down easy, consider sending them a text telling them you don't want to go out — that way, you're not leaving anyone hanging. If someone offended you or behaved badly on a first date, it's totally OK to call them out in the rejection text. (It's also totally OK not to — it's a lot of emotional labor, and you don't have to educate every person you go on a first date with.) However, if you're looking to know how to let someone down easy over text, there are plenty of ways to make rejection feel kinder.
Here are a dozen polite ways to let someone down easy after a first date.
Letting someone down easy after a first date isn't fun, but it doesn't have to be super stressful, either. For all you know, they feel the same way and they're relieved you ended it. Even if they don't, they deserve to be with someone who is interested in dating them, so ending things kindly can be the most compassionate move because it allows them to move on. If you met a nice person you don't want to continue dating, consider one of these 12 texts to let them know politely.
This article was originally published on