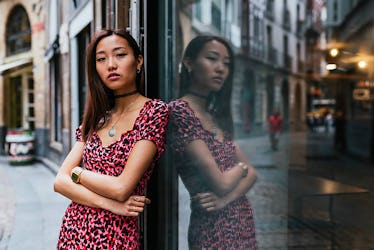 4 Things To Remember If You're Dating & Haven't Clicked With Anyone Yet
Once you've been part of the dating scene for a while, it's easy to get discouraged if you still haven't met someone you vibe with. Even when you're not looking for "the one," just finding someone who can connect with can feel like a massive struggle. If you're dating around, but not feeling a connection, it's important to realize that even though it might not feel like it, what you're going through is completely normal. There's no "right" amount of time to play the field before someone's supposed to find their match because every circumstance is different.
According to Dr. Joshua Klapow, Ph.D., Clinical Psychologist and host of The Kurre and Klapow Show, it's also common to develop anxiety about being single, which can make you feel even worse. "It is very normal to date for weeks to years and not find the right person," Dr. Klapow tells Elite Daily. "Often, when we can't find the right person, we increasingly get more anxious in our search, we look harder, we judge quicker, and we evaluate people not on their humanity or potential, but if they do or don't fit in the right box." If you've started feeling antsy about not being in a relationship, here are some helpful things to keep in mind.