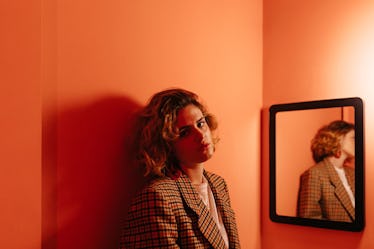 5 Things To Remember If You Just Got A Rejection Text After A Date
One of the hardest parts of dating is getting the vibe right on that first date (or second or third). It's such a delicate feat to pull off because you both have to be in the right headspace and also feel similarly about each other. If you were really feeling that vibe with someone on a date, enough to ask them out again, getting a rejection text after the date can be a tough freaking pill to swallow. If you recently got a rejection text after a date, it can feel like a huge blow to your self-esteem. But know this: A rejection text may actually pay off in the long run.
It can also be quite easy to snowball this experience into the amalgamation of other rejections. Even though it can be hard, try to refrain from baking a loaf of rejection bread. This my phrase for when I take all of my rejections from different dating interactions and mix them into one really bummer mood. This one rejection isn't representative of your overall worth. It's actually really incredible that you're putting yourself out there, and that should be celebrated.
If you're feeling sore about being turned down — that's OK. Allow the following affirmations to soothe your bruised heart until you're ready to get back on the horse.