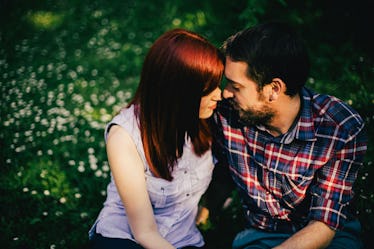 4 Things You'll Notice If There's No Spark On A Date, Because Chemistry Isn't Guaranteed
As an avid watcher of rom-coms, I'm a total believer in the "spark." Sure, feeling that spark with someone on a date isn't everything, but I know I'm not alone in my desire to feel it. But finding that spark, or finding someone who you have chemistry with, with can be hard. It's difficult to tell if it's there right away, especially if you have mixed feelings when you meet. So if you're wondering what kind of things you'll notice if there's no spark on a date, then you're definitely not alone. You might think someone's beyond attractive, or have great conversation, but that doesn't necessarily mean there's a spark.
But first, what even is a spark? You've heard it described in rom-coms, but what does it actually mean? "A spark is a connection you feel when you're on a date with someone," Elle Huerta, CEO and founder of Mend, the breakup recovery app, tells Elite Daily. "It's going to feel a little different for everyone, and it also may not happen for everyone at the same time. " Additionally, Huerta adds that "a lot of people are really nervous on first dates, which might make the spark a little hard to find at first," so try not to worry too much on that first date if there wasn't a spark.
So, how can you tell that there really and truly is no spark?