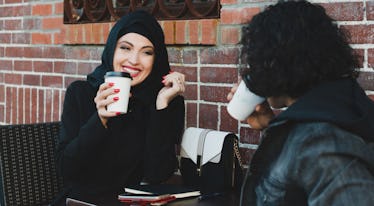 You'll Be An Even Better First Date If You Do These 6 Things
You think you give off a good impression when you're going on dates, but how can you really tell? A lot of the signs you're an amazing first date come from how well you follow etiquette — and not always just the obvious things (like not spending the whole date on your phone, not being rude to servers, and showing up to a date sober). But, following etiquette guidelines doesn't mean that you have to be stuffy or feel like you're not yourself.
Of course, the whole point of going on a date is trying to connect with someone who likes you for who you are, right? So while there are some things you should do to be polite and to make things go smoothly, you shouldn't use those etiquette guidelines as a reason to not be yourself. And according to Damona Hoffman, host of the Dates & Mates Podcast, finding that balance shouldn't be too difficult.
"If you are clear on your core values and the values you're seeking in a partner before you get to the date, you will be more likely to stay true to who you are," Hoffman tells Elite Daily. "The goal is not to have every date love you, it's to make a connection with the right person."
Matchmaker and dating coach at Huntingmaven.com, Julia Bekker, echoes this sentiment, and has a helpful tip for making it feel even easier.
"It's important to be your genuine self," Bekker tells Elite Daily. "Sometimes that's hard because nerves can get in the way" she adds, but notes that something that can help in that case is "not focusing on whether the person [you're] with will like you but whether this person is someone you could see yourself with or not."
Here are six signs you have great dating etiquette and are likely to make a good first impression — and things you might want to consider doing on your next date, if you aren't already.