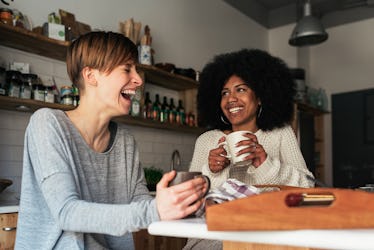 4 Signs Someone Is A Good Communicator That You Can Spot On The First Date
When it comes to dating, I'm an anomaly in more ways than one. For starters, I'm a dating writer who rarely takes her own advice (and almost always tells my dates about that one time I bit a kid so hard he needed a tetanus shot, like, right off the bat?). And beyond my generally awkward and open disposition, playing hard-to-get does not work on me. Unlike the majority of singles — and lab rats — I appreciate unfettered communication. Which is why I'm on the hunt for signs someone is a good communicator as soon as the first date, if not sooner.
It's funny, because communication is a major pillar in any healthy relationship (professional, familial, romantic — you name it). And yet, we tend to do it so horribly at the beginning: Calculating the timing of our texts, stressing about saying too much or too little, masking our hatred of raw fish and seaweed when asked out on a sushi date. It's insane, and maddening, and honestly, just really silly. Rather than painting over our true thoughts and feelings for the sake of seeming normal, or playing a cat-and-mouse game, we should all start being a bit more open with our crushes and expecting them to do the same. Right? Right. After all, if someone's not showing great communication skills in the early days of a new relationship (or a relationship-type-thing), how can we trust that they'll be a candid partner in the long run?
With that in mind, here are four signs that your crush is, indeed, a good communicator (signs you can spot on the very! First! Date!).