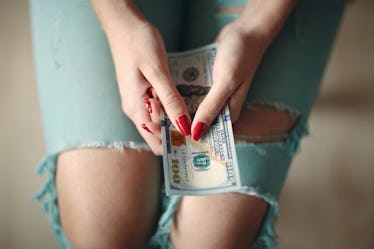 6 Guys Reveal What It Means If They Don't Offer To Pay For You On A Date
Even though gender doesn't really have much to do with who pays for a date these days, most guys will still offer to pay for you on the first date. Alternatively, popular opinion tends to be that whoever set up the date should get the bill. So if you went out to dinner or drinks and your date didn't offer to pay, you might be wondering what that means. Are future dates out of the question, or was your date just tight on cash this time around? I spoke to six guys, and as it turns out, there are a number of different reasons why they might not pay for you on a date. Luckily, not all of these explanations mean they're not into you.
The majority of guys I talked to said they usually try to pay on a first date. For some, there are exceptions — like if you say you don't feel comfortable with someone else paying for you, or if you repeatedly insist on paying. Others only feel obligated to pay for the first one or two dates. After that, they expect you to chip in. It's important to note that if a guy didn't attempt to pay for you on a date, it's not necessarily a bad sign. If you're trying to determine whether you did something wrong, or if he's actually just a feminist who believes that all genders can foot the bill, I get it. Luckily, you don't have to wonder any longer, because these guys are revealing what it truly means when they don't offer to pay on a date.