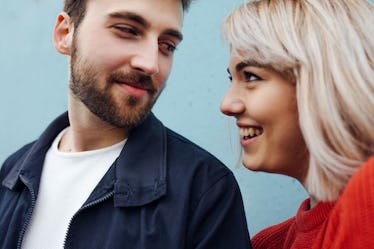 If Your Date Is Showing These 4 Body Language Signs, It Means They Want A Second Date
Sometimes, dating can make you wish you were a mind reader. How many times have you gone on a seemingly great date, only to have them ghost? You were sure you connected, and yet, no second date. Beyond frustrating! Unfortunately, I don't know of any way to learn how to read minds psychically (yet!), but there is another alternative that can actually shed some light on the mysterious inner workings of your date's mind: body language, including the body language signs your date wants a second date.
To help identify the signs, I reached out to body language expert Blanca Cobb, who confirms that, yes, using body language, there are ways to know if you and your date are on the same page about seeing each other again. It's all about paying close attention to a few key behaviors. If your date is doing these things, it might mean that they're interested, they're having a good time, there's probably a good chance they want to see you again. On the flip side, if they aren't, then you won't be blindsided if they go full Casper afterwards. Here's what Cobb says you should be keeping an eye out for on your next date.