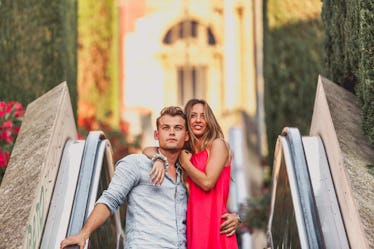 4 Body Language Signs Your Date's Not Interested In You, According To Experts
In the dating world, there may be times when it feels impossible to tell whether or not someone likes you. Mixed signals and confusing text wording is real when you have yet to DTR. Does the cutie from down the hall liking your Instagram from two weeks ago mean they're into you? What if the person you're out on a date with keeps checking their phone? Are they not feeling it? Thankfully, there are certain body language signs your date's not interested in you you can look out for if you're having these doubts, and they're easier to spot than you might think.
Believe it or not, you actually do "give off body language signs about your feelings for someone," body language expert Blanca Cobb tells Elite Daily. "Many times it's subconsciously done. You may not realize that your body is slipping signs of your feelings."
While it might be hard, knowing someone isn't into you is at least helpful in letting you know that it might be time to move on. "Don't waste your energy on someone who isn't into you," Cobb advises. "Let them go." Look at their body language to see how they're truly feeling, and watch out for these signs that they aren't into you after all.