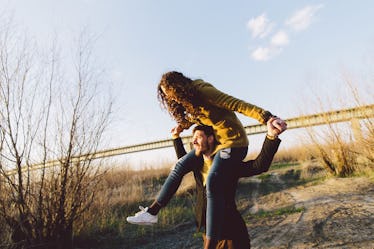 7 Body Language Clues Your Partner Is In Love With You, For When Actions Speak Louder
Being in a relationship can come with a lot of questions along the way. When you first start seeing someone, you'll wonder if they like you back. Later, you might wonder like if they're looking for a serious relationship, or whether or not they believe in marriage, or what their family dynamic is like. But, if you're wondering whether or not they love you, then you might be able to tell without even having to ask. Yes, there are certain body language clues your partner's in love with you that you might want to keep an eye out for if you aren't getting the verbal confirmation you need.
That's not to say your partner shouldn't verbalize their feelings. Hearing "I love you," is important to any relationship. But there's loads we can tell about our partner by their body language, even if it's not always the most on-point read. According to body language expert Traci Brown, you can tell a lot from body language, but love is pretty complicated. "True love is pretty hard to determine using body language," Brown tells Elite Daily. "And not everyone uses body language the same way (think Sheldon Cooper on The Big Bang Theory). But you can tell if someone is really into you."
So, don't just look at your partner's body language and assume how they feel about you. Really, these should be used in combination with other things you can observe, like how they treat you and how you talk about the future together.