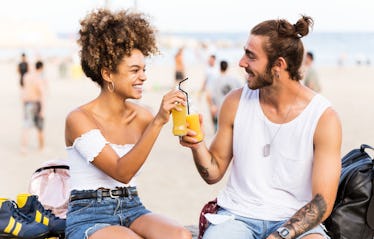 If You & Your Date Have A Spark, Experts Say You'll Notice These 5 Things
Dating can sometimes be a bit of a slog, full of awkward conversations that really end up going nowhere. It can be natural to start to question why you even keep trying. That is, until it happens: You go on a date and it just feels totally different. You can't quite put your finger on it, but there's just a feeling of electricity between the two of you. That's because if you and your date have a spark, well, it's just a totally exciting and new experience.
But what's the difference between normal date jitters and feeling real chemistry with someone? According to NYC relationship expert and love coach Susan Winter, you'll know the difference with a spark because you'll feel like you're coming alive in your date's presence." Something about this person ignites your interest and stirs your excitement levels," she tells Elite Daily. "The attraction may be physical or mental. It can be their sense of humor, their smile, or the way they move. The 'spark' lets you know something special is happening in relation to this individual."
So, how do you know if you and your date are both feeling the spark? I reached out to experts to learn what you may notice if the chemistry is strong. Here's what they say to be on the lookout for.