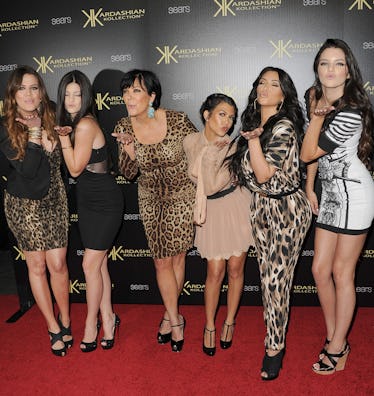 Which Kardashian Are You Most Like Based On Your Zodiac Sign? The Stars Tell Us
Jason Merritt/TERM/Getty Images Entertainment/Getty Images
Do you obsess over Kim Kardashian's ever-changing hairstyles? Do you have a drawer that's filled to the brim with Kylie Cosmetics? Is Kris Jenner your spirit animal? (Of course she is, she's everyone's spirit animal.) While you can't be a Kardashian, you can at least be like one. "But how?", you might ask. Well, it's sort of written in the stars. That's right, you guys. Believe it or not, you already have personality traits that are similar to one of the Kardashians! While you may not share the same birth month with them, you might actually share some striking similarities. So, which Kardashian are you most like based on your zodiac sign?
While I'm sure you secretly have a favorite Kardashian or Jenner, you might actually be more like someone you didn't even think you'd be compatible with. And, while that probably doesn't mean you'll become best friends, you can at least still try by mentioning them on Twitter, right?
(But in all seriousness, you're still probably never going to be best friends with any of the Kardashians, just so we're clear.)
So, read below and figure out whether or not you and Kylie share the same views, you and Khloé could totally hang, or if you would rather kick it with Mama Kris:
Capricorn
You're practical, responsible, and reserved – just like Kourtney Kardashian. Capricorns can seem very serious by nature, and sensibility often wins out over spontaneity with you, much like our girl Kourt. But that's not a bad thing. While Kourtney is definitely a homebody, she's also a go-getter businesswoman, opening up the children's clothing boutique, Smooch (though it closed down in 2009).
So basically, Capricorn, you share some pretty awesome traits with our girl Kourtney. Your no-nonsense attitude and your professionalism is taking you places in life – maybe even around the world with your male model boyfriend.
Aquarius
You're eccentric and original, and are filled with good energy – like Khloé Kardashian. Like most Aquarians, Khloé has no problem with giving her honest opinion, and can lighten up any situation with a joke. Your good humor can get you through nearly any situation, like, for instance, clapping back at pregnancy shamers when they don't approve of your fitness routine.
Aquarians, you keep your head held high and let your girl Khloé lead the way. She's one hell of a leader.
Pisces
Sweet, sweet Pisces. Compassionate and empathetic, you closely resemble Kendall Jenner. Often staying out of the #drama, Kendall has a more sensitive personality than her bold sisters. Always the first to help others and, at times, thoughtful to a fault, a Pisces truly wants nothing more than to live in tranquility and peace.
So if you're the kind of person who will skip the Victoria's Secret Fashion Show to go watch your boyfriend play basketball, it looks like you may be more like Kendall than you think.
Aries
Confident. Dynamic. Ambitious. Am I talking about you, Aries? Or am I talking about Kim Kardashian? I'm talking about the BOTH OF YOU, OBVI! As an Aries, you love to be the person who wins first place, who puts plans into action, and who has just the teeniest bit of OCD. Well, Kim Kardashian is all of those things, too, as I think it's safe to say that she is the sister who spear-headed the entire Kardashian enterprise.
So, Aries, whether you're baring it all for your beauty line or courageously opening up about your personal life, you can take a page from Kim's book, because the girl is crushing life.
Taurus
Hey, Taurus, we know how reliable and devoted of a person you are. You know who else is like that? Mr. Rob Kardashian. As a Taurus, you know that persistence is key in life, and you don't let anything stand in your way of your dreams – even when people criticize your controversial sock line.
Taurus, you tend to keep your personal life as private as possible, and try to go about your day with as little drama as possible. Unfortunately, if you're a Kardashian, this probably can't happen. Sorry, Rob.
Gemini
Often known for their dual personalities, Geminis are typically witty and quick-thinking, but can get deep and meaningful at the drop of a hat – just like Scott Disick. We all know Scott as the sarcastic and hilarious ex-boyfriend, but he certainly has a more intense side to him, just like you, Gemini.
But more often than not, you're the sociable and fun person who loves to live your life like it's a party. And why the hell not? Life is fun, especially when you go through life pretending you're Todd Kraines.
Cancer
Cancer, you're supportive and kind, and have DEFINITELY been called the "mom" of your group. So it only makes sense that you are just like the matriarch of the Kardashian family, Kris Jenner. You're the backbone that holds together your group – whether it's family or friends – and are always the go-to person for advice.
And, although you can be sensitive and emotional, you have no problem putting the haters in their place if anyone tries to talk smack about someone you love. Don't ever mess with the mama bear.
Leo
You're confident, creative and a natural-born leader – that's what makes a Leo a Leo. And it just so happens that all of these personality traits are exactly what makes Kanye West, well, Kanye West.
You can sometimes come off a bit strong, but that's OK, because deep down, you're generous and warm (although you might not always show it). And just because you have a tendency to create drama doesn't mean that you're not loyal, because you totally are. You're fierce like a lion (and like Kanye), so let's hear you roar.
Virgo
Virgo, you're a practical and tender soul, just like Brody Jenner. Your desire to stay out of the limelight and under the radar is just part of your nature, and you constantly have to tell yourself to stop worrying sometimes.
Because we don't see much of Brody Jenner – and, apparently, neither do the Kardashians – we tend to forget that he's a part of their family, too. Ironically, that's a trait for all of you Virgos out there, never one to take center stage or want to be at the center of attention. For 2018, maybe your resolution should be to come out of your shell and do something wild. Dye your hair! Flip some tables! Dare to be different.
OK, but maybe not, like, too different.
Libra
OH, so you thought that little North wouldn't make it into this post? Are you off your rocker? Libra, you lucky, lucky, sign. Because you are the textbook definition of "social butterfly" and bask in the center of attention, you and North are like one in the same.
Because Libras have a penchant for the finer things in life (um, hello, have you seen North wearing Kim Kardashian's Balenciaga shoes?) you know that life is about indulgence – and sharing it with others.
Unless you have Balenciaga boots. Keep those alllll to yourself.
Scorpio
Passionate. Fearless. A natural-born entrepreneur. We're talking about you, Scorpio, but also about Kylie Jenner. You're a hustler, and it shows. You stop at nothing when it comes to success, like, oh, I don't know, having your own cosmetics line and spinoff show, and you could care less if people love you or hate you.
And that's more than fine, because the world needs more #queens like you. So go forth, pioneers, and slay whatever path you choose to go down.
Sagittarius
Sagittarians, you've got chutzpah – and so does Caitlyn Jenner. You achieve any goal that you set your mind to, and your persistence in life is admirable. Considering Jenner was a former Olympian, I think it's safe to say she's on your level.
Sagittarians also embrace change, and after all of Jenner's public life changes, it's safe to say that she does so with grace and enthusiasm, much like your sign. Your open-mindedness and optimistic outlook in life is something that everyone else should look to you for, because it's pretty damn refreshing.
So, you see? We are all a little bit Kardashian, and the Kardashians are all a little bit us.
God bless.