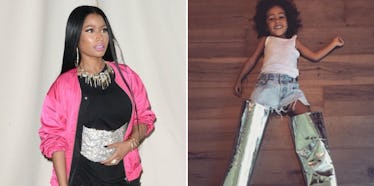 Nicki Minaj Stole North West's Look Because That's Apparently A Thing Now
REX/Shutterstock/Instagram
Say what you will about North West being "a child" who "isn't an adult" and "doesn't have a valuable opinion about high fashion" because she's "learning how to survive" and "use a toilet" and "feed herself," but this girl debuted some fantastic Balenciaga boots other celebs are sporting six months later.
Back in August, the daughter of Kim Kardashian and Kanye West posed in a pair of super tall, silver Balenciaga boots on her mother's Instagram.
Now, Nicki Minaj is taking the boots to Paris Fashion Week, specifically to Wednesday's H&M Studio show.
The rapper's legs were a way more appropriate length for the knee-high stilettos, and she oozed that newly-single confidence that causes even the saddest of us to lose five pounds and get a new hobby.
Nicki and longterm rapper boyf Meek Mill split in January. Nicki told fans,
To confirm, yes I am single. Focusing on my work and looking forward to sharing it with you guys really soon. Have a blessed New Year. Love u.
Nicki has already been sticking to her promise, climbing the charts in her big girl boots to become the woman with the second-most (Nicki has 71, Aretha Franklin has 73) Billboard Hot 100 songs.
Her feature on Major Lazer's "Run Up" edged her into the number two spot over Taylor Swift.
When Nicki heard the news, she took to Instagram to congratulate herself, natch.
She wrote,
Oh hey, Taylor (smiley face emoji w/ heart eyes) – Taylor & I were tied but thanks to u guys, #RunUp debuted on the Hot 100 this week so I was able to inch past her a bit. Did you know she's a sag like ya girl? Her, Britney, Christina Aguilera… yup love them all (kissing face emoji). #MostHot100EntriesByWomen #sagittariusRULES #ReadyOrNotHereIcome
If a little healthy competition is what it takes to get Taylor back in the studio, prepping some fresh cry-in-the-car jams for summer 2017, so be it.
Citations: Nicki Minaj Rocks Same Thigh-High Boots as North West, Hangs With Alicia Keys During Paris Fashion Week (Entertainment Tonight)