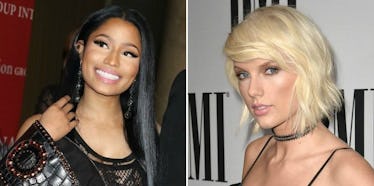 Nicki Minaj Calls Out Taylor Swift After Beating Her On Billboard Hot 100 List
REX/Shutterstock
According to Billboard, Nicki Minaj recently passed Taylor Swift for second on the all-time list of women with the most Billboard Hot 100 songs.
Apparently, Nicki Minaj and Taylor Swift had been tied on the Billboard list for some time with 70 Hot 100 songs a piece.
However, thanks to her appearance as a feature, along with PARTYNEXTDOOR, on Major Lazer's "Run Up," Nicki Minaj racked up her 71st Hot 100 appearance and passed Swift to take sole possession of second on the all-time list.
So, how did Nicki Minaj celebrate her new achievement? Well, she threw a little shade and called out Taylor Swift on Instagram, of course!
The 34-year-old recording artist posted the following picture on Instagram to commemorate her milestone achievement, but couldn't help but call out Taylor Swift, Britney Spears and Christina Aguilera in the process.
To caption the above post, Minaj wrote,
Oh hey, Taylor (smiley face emoji w/ heart eyes) - Taylor & I were tied but thanks to u guys, #RunUp debuted on the Hot 100 this week so I was able to inch past her a bit. Did you know she's a sag like ya girl? Her, Britney, Christina Aguilera... yup love them all (kissing face emoji). #MostHot100EntriesByWomen #sagittariusRULES #ReadyOrNotHereIcome
OK, so Minaj's calling out of Taylor Swift was really more lighthearted and playful than anything, but still, this has to bother Taylor Swift quite a bit, right?
Like, it's all about accolades and distinctions at the end of the day, isn't it?
According to Billboard, with 73 songs, Aretha Franklin holds the honor of being number one on the list of women with the most Hot 100 songs of all time.
However, at this rate, it may not be long before Nicki Minaj overtakes Franklin for top spot.
In case you were wondering, the next artist on the list behind Taylor Swift is Madonna, who comes in fourth on the list with 57 HOT 100 jams.
Your move, Taylor.
Citations: nickiminaj (Instagram)