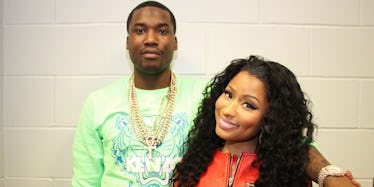 Nicki Minaj And Meek Mill's Breakup Was The Result Of A 'Nuclear' Fight
REX/Shutterstock
By now, we're all well aware of the fact Nicki Minaj and Meek Mill are officially broken up.
Honestly, most people saw this coming. We knew there was something up between these two the minute Nicki started posting subliminal messages directed at Meek on Instagram.
Sparking speculation, the 34-year-old rapper first posted this on social media.
Meek Mill then seemingly responded with a subliminal post of his own.
At that point, Instagram users noticed the couple had stopped following each other on Instagram at the time.
Days later, on January 5, Nicki Minaj finally confirmed she was indeed a single woman.
After Meek and Nicki celebrated New Year's Eve separately, the "Pinkprint" singer took to Twitter to confirm the speculated breakup, tweeting,
To confirm, yes I am single. Focusing on my work and looking forward to sharing it with you guys really soon. Have a blessed New Year. Love u.
OUCH. It looks like Meek Mill's new year is off to a rocky start following... a shitty year. Damn, this guy can't catch a fucking break, can he?!
But WHY?! What were the real, non-subliminal reasons why Nicki and Meek called it quits on their relationship?
According to TMZ, new details regarding the breakup highlight the fact the couple had been on the fritz since their trip to Turks and Caicos last year.
The report states Meek hadn't been "paying attention" to Nicki on the trip during her birthday weekend.
Instead, he was hanging out with his friends, which reportedly sparked a "nuclear" fight between the couple that resulted in Meek ditching the island alone, leaving Nicki behind.
Of course, Nicki wasn't going to take that so she ditched her entire relationship with Meek.
While the breakup is a result of the Turks and Caicos drama, the report states there was a bunch of other "small stuff" that built up between the two, which made it easier for them to cut ties.
Sure, this is sad news for all of you loyal Nicki Minaj/Meek Mill fans out there, but if the world can get through the Brangelina split, we can certainly get through this.
Plus, Meek, what in the entire fuck were you even thinking?
You're constantly preaching about how you were able to make it out of the bad times in your life by chasing your dreams, yet you finally get your dream girl only to take her all the way to splitsville?!
It's getting harder and harder to feel sorry for you, bro!
Speaking of celebrity breakups, here are the celebrities who are newly single and ready to mingle in 2017.
Citations: Nicki Minaj & Meek Mill: Birthday Blowup Led to Breakup (TMZ)