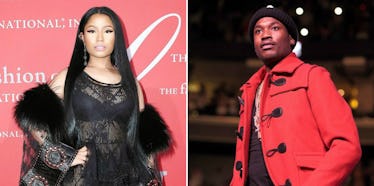 Nicki Minaj Confirmed Dating Meek Mill Is A Thing Of The Past
REX/Shutterstock
Stop the presses!
Early Thursday morning, rapper Nicki Minaj confirmed she's officially "single" and no longer in a relationship with rapper Meek Mill.
The 34-year-old "Anaconda" singer made the announcement via Twitter, and it appears at least one of the reasons she's no longer dating Meek is so that she can focus on making music.
Minaj wrote,
To confirm, yes I am single. Focusing on my work & looking forward to sharing it with you guys really soon. Have a blessed New Year. Love u.
In December, there was widespread speculation Nicki Minaj and Meek Mill were headed for a disastrous breakup.
Minaj posted a somewhat cryptic message on Instagram, which may or may not have been indirectly directed at Meek Mill...
And then, Nicki and Meek put on rival performances in Miami this past New Year's Eve.
According to TMZ, Meek Mill scooped up $200,000 for doing a show in South Beach, while Nicki Minaj did her own thing at the club E11EVEN in Miami.
Naturally, Twitter had a field day with the news Nicki Minaj is single and no longer dating Meek Mill, and the tweets are about as savage as you might imagine.
I love the internet.
Seriously, though, would this news even be that big a deal if there weren't thousands of people on Twitter to weigh in on the subject and kick Meek Mill while he's down?
I feel for you, Meek, really I do, but I think there were quite a few folks out there who thought Nicki Minaj's announcement was coming sooner rather than later.
So, do you think Nicki Minaj will really stay single in 2017, or will she move on to someone, uh, bigger and better than Meek Mill?
Regardless, I sincerely hope we get some fire music out of this from Nicki.
Citations: Nicki Minaj Confirms She's 'Single' and No Longer Dating Meek Mill (Complex)