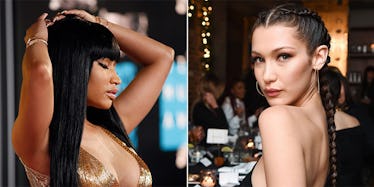 Here Are 7 Celebrities Who Are Newly Single And Ready To Mingle In 2017
REX/Shutterstock
Is there anything more depressing than ringing in the New Year alone?
It's the only holiday all the lonely souls out there countdown from 10 to the exact moment they don't get kissed. (All other times, I don't count down... but the reminder is still constant.)
But the truth is you AREN'T alone. Because we're all lonely TOGETHER.
And if you need to be reminded of other people's failed attempts at love in order to be happy, then you're in luck.
We're in good company this year, plenty of celebrities are newly single in 2017, too!
Just because they're infinitely better looking and more talented than us rubes doesn't mean love is any easier for them!
It's true, Nicki Minaj is no longer attached to Meek Mill. The rapper tweeted,
To confirm, yes I am single. Focusing on my work & looking forward to sharing it with you guys really soon. Have a blessed New Year. Love u.
Nicki obviously tried to make it work with Mill. Would you stick with a guy who was under house arrest and lost a rap battle to Drake?
Mill obviously takes the L on this one. Without the "Anaconda" singer, whenever someone brings up Meek, people will say, "Wait, who?"
Hilary Duff recently broke up with her boyfriend of five months, trainer Jason Walsh. Walsh was probably her rebound after her divorce from her husband of six years, hockey player Mike Comrie.
She was also recently spotted with the super sexy Scott Eastwood.
Obviously, "Lizzie McGuire" is doing the single thing correctly.
Jolie experienced a very public, drama-filled breakup with fellow Hollywood royalty, Brad Pitt, in 2016. There were rumors of alcoholism and child abuse fueling the tabloid fires all year.
We suspect Jolie is going to stay single after the messy divorce, at least for a little while.
Still, if the two most beautiful people in the world can't make it work out, how are we expected to, right?
Whose heart didn't break when they were watching the Victoria's Secret Fashion Show and witnessed The Weeknd singing to his newly made ex-girlfriend Bella Hadid?
The two still seem to have a great deal of respect for one another, and we can't help but hold out hope these two crazy kids finally figure it all out.
They got back together after a breakup before... Third time's the charm?
Lovato, who literally has a last name that sounds like "love," broke up with her boyfriend of six years in 2016, Wilmer Valderrama.
The couple wish the best for each other, but that is a lot of years to get over. Since the big breakup, she's been linked to John Mayer...
As well as Bella Thorne.
Lady Gaga and Taylor Kinney ended their engagement this year and while it looks like he may be moving on, Lady Gaga has been blessing her fans with new music and videos.
So, I guess we won this breakup.
What a year!
Swift broke up with DJ Calvin Harris in June of 2016 and while sources may have said he was bored in the relationship, it didn't take long for Swift to move on.
The musician and actor Tom Hiddleston had a whirlwind romance, which ended as quickly (and as oddly) as it began.
So yes, there is new music on the way.