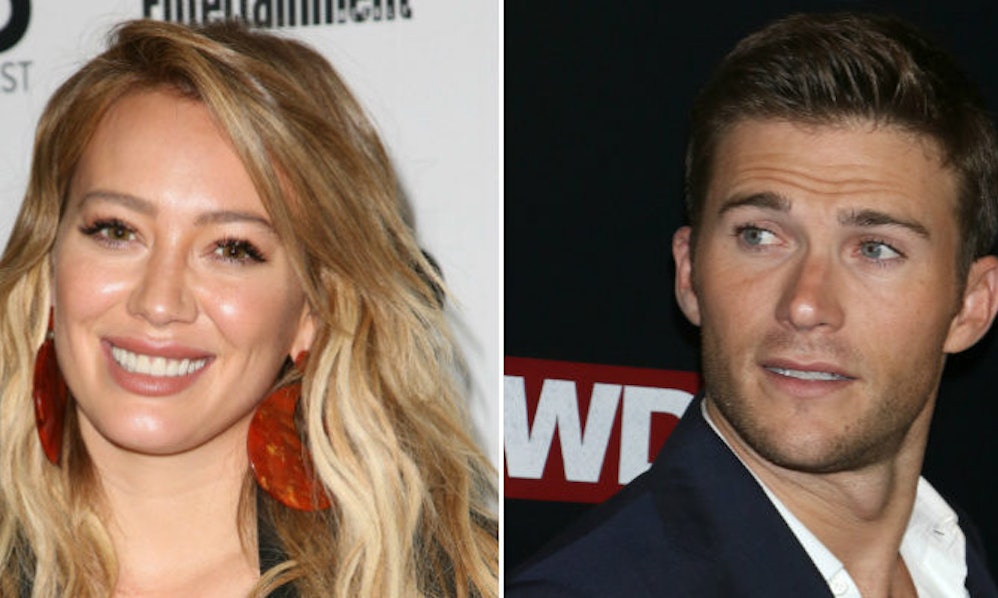 REX/Shutterstock
Hilary Duff And Scott Eastwood Hung Out And Fans Love It
They say the best way to get over someone is to get under one of the sexiest men in Hollywood.
(That's not the expression? Well, I don't think it could hurt...)
Newly single Hilary Duff was seen enjoying her Saturday night with a friend at Catch LA when Scott Eastwood joined in on their fun.
A source told E! News,
At one point, she was very flirtatious with Scott. The two talked for quite some time. Hilary was all smiles and looked happier than ever despite her recent split.
Of course, Duff looked happier than ever.
Shoot, I'm not even straight and if Eastwood started flirting with me, there would be a lot of questioning of my sexuality.
The "Younger" star even left with Eastwood to go to 1OAK nightclub.
Naturally, Twitter is blowing up shipping this couple because...
We all love to witness beautiful people falling in love.
Duff and her boyfriend of five months, trainer Jason Walsh, broke up recently, but fans are ready for the actress to MOVE THE EFF ON TO SCOTT EASTWOOD.
Cuffing season? More like DUFFING season.
Now that Duff and Eastwood have Kristi's blessing, they can finally kiss.
What would their celebrity couple name be? Duffwood?
However, to make things awkward, Hilary Duff's ex-husband Mike Comrie, who Duff has a four-year-old son with, was also at the restaurant.
They split amicably in 2014, so maybe watching his ex-wife flirt with a stud like Eastwood didn't really bother Comrie.
Meanwhile, my ex from high school deleted me from all social media despite the fact that we haven't dated in 10 years. Get it together, bruh.
Fans of the actress are really rooting on this couple. I haven't seen fangirling like this since the "Lizzie McGuire" days.
Sorry, Gordo. Lizzie is moving on from your perm.
Citations: Newly Single Hilary Duff and Scott Eastwood Have a Flirty Night Out in Los Angeles (E! Online)