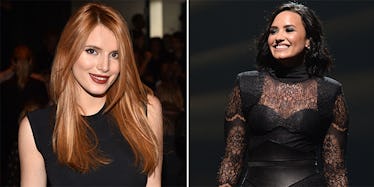 Bella Thorne Fuels Rumors She's Dating Demi Lovato By Liking Flirty Tweets
REX/Shutterstock
Oh, hot damn!
Things are heating up between Demi Lovato and Bella Thorne on social media, and we can't stop watching.
I'M SERIOUS, IT'S 'BOUT TO GET JUICY AF UP IN DIS BITCH.
The Disney Channel star MAYYYYY be linked to Tyler Posey, but that hasn't stopped her from flirting it up with the "Confident" singer. SORRY, TY!
Tuesday morning, Bella Thorne tweeted out a #WCW about Demi Lovato and fans went nuts.
Now that's what I call a #wcw look at those freckles @ddlovato pic.twitter.com/V6MjBnQUmx — bella thorne (@bellathorne) October 4, 2016
It wasn't even Wednesday, but the actress felt the need to show off her love for Lovato.
On top of that, Bella started liking more suggestive tweets about her relationship with Demi. UHHHHH... LIKE THIS ONE.
@bellathorne the scene would be so cool if u kissed @ddlovato like this I know I would haha https://t.co/q59DB49XyT — kaylamedlinlovesdemi (@kaylareneemed) October 3, 2016
Fans picked up on their chemistry and tweeted pictures of Demi to Bella... who then liked them all.
"SEND ME MORE PICS OF MAKEUP-FREE DEMI," - Bella, probably.
Shortly after, Demi tweeted at Bella, calling her a "pretty girl," and Bella retweeted it. IS IT GETTING HOT IN HERE OR WHAT?
Oh, and last night, Demi answered some questions from her followers. When asked if she would ever date a girl, Demi replied, "Who says I haven't?"
BELLA LIKED THE SHIT OUT OF THOSE, TOO. SHE "LIKED" THEM ALL... AND THESE!!!
I am not OK. These are serious couple goals, and they aren't even a couple.
See! I'm not the only one who thinks they should date. Fans also started tweeting about the ~other interactions~ between Bemi. (Yeah, that's their nickname, got a problem?)
According to this user, Demi commented heart-eye emojis all over Bella's photos.
Then -- get this -- Demi started liking tweets about her having a crush on Bella. THE PDA IS OUT OF CONTROL, PEOPLE.
Demi Lovato hinted she's bisexual in an old interview with "Alan Carr: Chatty Man."
When asked if the lyrics of her song "Cool For The Summer" were about lesbianism, Demi said,
I am not confirming and I'm definitely not denying. All of my songs are based off of personal expereriences. I don't think there's anything wrong with experimentation at all.
This summer, Bella Thorne came out as bisexual on Snapchat by sharing a picture of her kissing another woman.
She later responded to fans on Twitter and thanked them for the tremendous amount of support.
Tuesday morning, Bella also liked a few fan tweets about her sexuality... right after flirting it up with Demi.
It's unclear if all the PDA means anything or if the ladies are just having a good time.
I'm personally convinced the two are seeing each other (TEAM BEMI FOR LIFE, YOU GUYS)  but whatever, who really knows.
Citations: Demi Lovato Bisexual (ET Online)