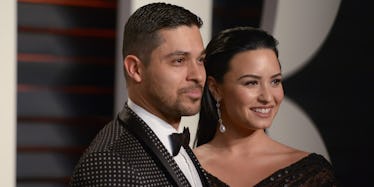 Wilmer Valderrama's Sweet Message For Demi Lovato Will Make You Text Your Ex
REX/Shutterstock
Texting my ex boyfriend is one of my favorite hobbies. He probably hates it, but I have a great time whenever I'm blackout doing it.
It's come to the point where I don't even feel embarrassed anymore. We just wake up and never speak of it again until the next time I'm drunk.
It's a beautiful cycle even though he's probably filing a restraining order against me. Ahh, what a guy. (I still love you.)
Speaking of exes, Demi Lovato's old boo had a lot to say about the "Confident" singer. Wilmer Valderrama spoke with ET and shared a sweet message for his ex. He told reporter Deidre Behar,
Honestly, I only wish nothing but the most incredible things for her.
WOW, that's adorable. It's pretty much like when my ex texts me "go away" or "please leave me alone." Haha, boys just can't get enough of me and Demi, I guess.
Wilmer and Demi Lovato dated for six beautiful years before calling it quits. Since their breakup, Demi has been romantically linked to Bella Thorne and John Mayer.
Demi and John were spotted getting cozy at Catch LA on Saturday night. Sources told Us Weekly "John had his arm around Demi and was whispering sweet nothings into her ear." I swear, I did not just make that up.
POOR WILMER. The 36-year-old actor is the only member of his "That '70s Show" cast who isn't engaged or married. He even told ET he's "behind" when it comes to starting a family.
HMMMM, MAYBE YOU AND DEMI SHOULD GET BACK TOGETHER?! Just a suggestion.
I wish Wilmer and Demi both the best as they pursue their separate lonely lives.
As for me, I'll keep texting my ex until he comes back to me. We're meant to be together, bb, you'll see.
Citations: Wilmer Valderrama Message For Demi Lovato (Entertainment Tonight)