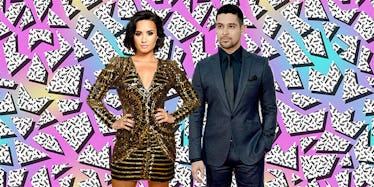 Demi Lovato Gets Super Real About Her Breakup With Wilmer Valderrama
REX/Shutterstock
One month after ditching her longtime boyfriend, Wilmer Valderrama, pop star Demi Lovato is coming clean about her decision and life after the breakup.
According to Entertainment Tonight, Lovato talked about feeling more independent and positive post-breakup in an interview with Elvis Duran and The Morning Show on Wednesday.
As she explained to the show hosts,
I stopped giving an 'F' at like 15. You only get one life, so if you don't do what makes you happy in this moment, you're doing yourself an injustice for the rest of your life. It is a battle, you just have to find the balance every day. You have to not give an 'F' but also be sensitive -- you can't just spout your mouth off and make jokes about insensitive things just because you don't give an 'F.' There's a balance, you just have to find it.
And part of Demi Lovato "not giving an F" is being her own person sans Valderrama. After dating the 36-year-old "That '70s Show" star for six years, she says,
I feel really amazing. I feel really great and I'm growing. My life is just really, really exciting for me because I'm growing. It's new and fresh, and I feel free.
Part of that excitement might have to do with the fact that she's currently touring with Nick Jonas.
Yeah, I'm pretty sure most people would feel happy and free if they were jet-setting around the world with pop stars.
Us commoners will just have to make do with rolling the windows down while driving on the highway. That's basically the same thing, right?
Citations: Demi Lovato Talks Life Post-Heartbreak, Touring With Nick Jonas: 'I Feel Free' (ET)