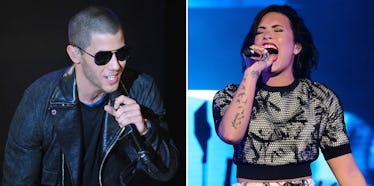 Demi Lovato And Nick Jonas Just Kicked Off Their Tour And It Looks Unreal
Shutterstock
Demi Lovato and Nick Jonas officially kicked off their Future Now Tour in Atlanta on Wednesday night, and my body is ready for any and all updates.
Fortunately, both Nick and Demi were committed to documenting every moment of arena pop magic on Snapchat and Instagram.
During the show, Nick lifted his mic stand into the air, giving his MANY zippers a moment to shine.
Demi crouch-sang to either a crowd of adoring fans or one passionate blob with ten arms.
T.I. made a guest appearance only to be upstaged by Nick's sexy arms.
Nick showed off his ensemble, AKA H to T Dsquared2, while everyone silently wondered whether he really needed a jacket and a sweatshirt.
Eventually, the "Bacon" singer went full Canadian tuxedo and nobody cared because Nick Jonas could wear a suit of rancid garbage meats and we'd all still be tryna.
Part one of the pair's Snapchat stories featured a sneak peek at the dress rehearsal and a bunch of direct eye contact from Nick that, for nine fans out of 10, WILL cause irreparable genital explosions.
Part two gave us a taste of the live show, including a FREAKING DUET of "Stone Cold."
SOMEONE BUY ME TICKETS ALREADY, UGH.
Citations: Demi Lovato & Nick Jonas' 'Future Now' Tour — Watch Their First Show Live (Hollywood Life)