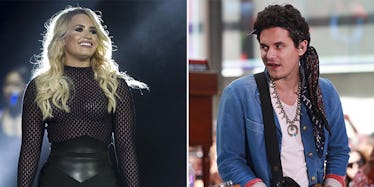 New Couple Alert: Demi Lovato And John Mayer May Be Dating Now
REX/Shutterstock
Cuffing season 2016 just got batshit insane.
What's better than one celeb with a reputation for being salty and outspoken dating a fellow celeb? Uhhhhh... how about TWO celebs with a reputation for being salty and outspoken dating EACH OTHER?
Rumors Demi Lovato and John Mayer are dating are rapidly becoming more ubiquitous than Nasty Woman tote bags at a Hillary rally, and it is a thrilling possibility.
Demi and John were spotted hanging at Catch LA on Saturday night, Us Weekly reports, and sources told the magazine the 39-year-old "had his arm around Demi," and -- no joke, this is the quote -- "was whispering sweet nothings into her ear."
Between the two of them, this could-be couple have uttered a lot of sweet nothings over the years.
There was the time John referred to ex Jessica Simpson as "sexual napalm" in a 2010 Playboy interview.
Or the time Demi slammed fellow pop star and John's other ex Taylor Swift for perpetuating a "false image of what people should look like" with her squad of Victoria's Secret model besties.
Or the time John, in the same 2010 Playboy interview, used the N word while insisting "black people love [him]."
Or the other time Demi slammed Taylor Swift for donating $250,000 to help Kesha cover legal fees during her battle with Sony and Doctor Luke.
Or the time, IN THE SAME 2010 PLAYBOY INTERVIEW, John called his dick "a white supremacist."
John's statements are, like, way worse than Demi's, but that's just where we are as a society in terms of how much it takes to vilify a prominent man versus a prominent woman. Humans are all just wet trash at varying stages of decay.
Anyway, back to ~LoVe~. In the event there's any truth to rumors Demi and John are, indeed, whispering sweet nothings about how uncomfortable each of them feel around Taylor Swift and black people, respectively, this is going to be less of a whirlwind romance and more of a tornado that levels Hollywood.
It's scary, but exciting!
But mostly scary.
Yeah. It's just scary.
Citations: John Mayer Puts His Arm Around Demi Lovato as They Hang Out at Los Angeles Club: Details (Us Weekly)